Our featured image shows our beloved Miriam, a great friend and human rights defender
HE WHO PERMITS OPPRESSION PERMITS CRIMES.-Desiderius Erasmus (1466-1536)
CHARITY CORNER
lthough there has been little easing of the pandemic we nonetheless turn our attention to other burning needs. We still encourage you to support Doctors without Borders who are fighting the virus in the places with the greatest need of support.
BOOKS FOR AFRICA
At Books For Africa, we believe that education is the great equalizer in the world, and books are at the foundation of a strong educational system. For many children in Africa, the gift of books truly is a gift of hope.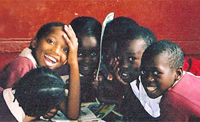 Access to an education is one of the only opportunities young people have to end the cycle of poverty and attain a better quality of life than previous generations. Books For Africa works to help children who otherwise would not attend school by supplying educational materials to reduce or eliminate education costs.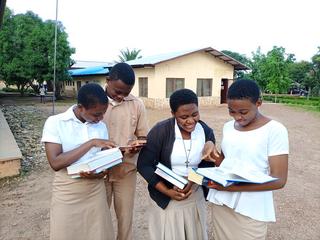 Books For Africa is a simple idea, but its impact is trans­formative. For us, literacy is quite simply the bridge from misery to hope. — Kofi Annan, former U.N. Secretary-General
INDIGENOUS PEOPLE
Indigenous tribes do not simply die out. They are killed by the actions of so-called civilized nations. Survival International provides a long list of cases in which a letter from you can and will make a difference. Please open this link and write at least one letter. This link will be a permanent feature on our blog and we would be grateful if you gave it a bit of attention each week. We suggest going down the list in the order given. The letters are pre-written for you. All you need to do is send them. It would be nice also if a donation to Survival International could be forthcoming.
You can help prevent genocide, put an end to logging and mining on tribal lands, and stop government violence and oppression.
A major calamity for indigenous people is the lack of respect for their basic human rights.Our vision is a world where tribal peoples are respected as contemporary societies and their human rights protected. We fight for tribal peoples' survival. We stop loggers, miners, and oil companies from destroying tribal lands, lives and livelihoods across the globe. We lobby governments to recognize indigenous land rights. We document and expose the atrocities committed against tribal people and take direct action to stop them. Our vision is a wohttps://www.survivalinternational.org/tribes/bakamessokdjarld where tribal peoples are respected as contemporary societies and their human rights protected.
This week we call for aid to the Baka people of the Congo.
Messok Dja is an area of Congo rainforest which is especially rich in biodiversity. It's the ancestral land of Baka people who have managed the forest since time immemorial. They are its best guardians.
WWF is trying to establish a conservation zone there without the consent of the local communities. They've funded park rangers who have committed violent atrocities against the Baka. Act Now to get the project scrapped.
THE STRUGGLE AGAINST SLAVERY
We have added this section to the blog in order to join the struggle against slavery worldwide. This week we refer you to the the ILO's Protocol on Forced Labor which is all about modern slavery. We call your attention to the anti slavery campaign. There you can sign up for action updates.The importance of checking your sellers' supply chains cannot be overemphasized.
Look for these logos:
Find a campaign to work for. Light must be made to shine in the darkest of places. We invite you to join Freedom United and raise your voice to call for an end to slavery in Libya.
URGENT ACTION CASES
BAHRAIN
Urgent Action Victory! Activist Returned to Pakistan and Freed
On 8 March 2020, the Bahrain authorities forcefully returned Geelaman Pashteen a Pashtun human rights activist and supporter of Pakistan's Pashtun Tahaffuz Movement (PTM) to Pakistan. Geelaman Pashteen was later released.
NO FURTHER ACTION IS REQUESTED. MANY THANKS TO ALL WHO SENT APPEALS.
On 8 March 2020, the Bahrain authorities forcefully returned Hazrat Naeem Abdul Qayum, also known as Geelaman Pashteen to Pakistan where he was detained upon arrival then later released. By 28 March 2020, he was using his Twitter account again.
On 6 February 2020, Bahraini security forces arrested Geelaman Pashteen, a poet and human rights activist who resided and worked in Bahrain, based on an Interpol Red Notice.
A supporter of Pakistan's Pashtun Tahaffuz Movement (PTM), he has been peacefully calling for equality and justice for human rights violations against the Pashtun community in Pakistan and for the release of Manzoor Pashteen, a leader of the PTM, who was arrested and detained on 27 January 2020 under draconian colonial-era laws, including for "sedition", for a speech he gave criticizing the Pakistan military.
In 2019, the Pakistani authorities intensified their crackdown on the PTM, which campaigns against human rights abuses – arresting and arbitrarily detaining dozens of its supporters, subjecting them to surveillance, intimidation, prosecution and violence leading to multiple deaths, solely for their peaceful exercise of their human rights.
CHINA
Urgent Action: Covid-19 Journalist Tortured for Exposing Truth.
Citizen journalist Zhang Zhan, who reported stories related to COVID-19 from Wuhan starting in February 2020, has been detained and charged with "picking quarrels and provoking trouble". Zhang Zhan went missing on 15 May in Wuhan and was subsequently revealed to have been detained by police in Shanghai, more than 640km away. At the Pudong New District Detention Center in Shanghai, Zhang has reportedly been forcibly fed by officials after she began a hunger strike. She is also being shackled and her hands have been bound 24 hours a day for more than three months, and there is grave fear for her health and well-being and risk of further torture and other ill-treatment.
TOGO
Urgent Action: Opposition Members Arbitrarily Detained
Political activists, Brigitte Kafui Adjamagbo and Gérard Yaovi Djossou – both members of the Dynamique Monseigneur Kpodrzo (DMK), a group of opposition parties and civil society organizations in Togo – were arrested on 28 and 27 November, respectively, after the DMK called for a demonstration to denounce the results of the February 2020 Presidential election and the judicial harassment of government opponents. They were charged with 'criminal conspiracy' and 'undermining the internal security of the state' and have been detained. They must be immediately and unconditionally released.
USA
Urgent Action Update: Five Face Execution in Trump's Last Six Weeks
Four men and one woman convicted under US federal law face execution in the last six weeks of the Trump presidency. The USA federal authorities resumed executions after 17 years and have been pursuing an unprecedented number of lethal injections, bucking national and global trends towards abolition. The cases of those selected for execution have been affected by arbitrariness, ineffective legal representation, racial bias, and have involved people with severe mental and intellectual disabilities, in violation of international law and standards. We urge the USA Attorney General to halt all executions and review the broken US death penalty system.
UKRAINE
Workers go unpaid for three years
Employees of the strategic state-owned enterprise KVARSYT, which is located in the front-line zone in Donetsk region in Ukraine, have not received wages and have been deprived of social security contributions for more than three years. After the outbreak of war in the east of Ukraine, the enterprise lost a large sales market. Neither the state concern 'Ukroboronprom', to which the enterprise is subordinated, nor the Government of Ukraine, nor the President of Ukraine, are making any real attempts to resolve the current situation. At the moment, the total amount of debt is more than UAH 47 million (€1.4 million) and is increasing every month. People are forced to work for free. PLEASE JOIN THE PROTEST.