Our featured image shows our beloved Miriam, a great friend and human rights defender
HE WHO PERMITS OPPRESSION PERMITS CRIMES.-Desiderius Erasmus (1466-1536)
CHARITY CORNER
Although there has been little easing of the pandemic we nonetheless turn our attention to other burning needs. We still encourage you to support Doctors without Borders who are fighting the virus in the places with the greatest need of support.
This week our chosen charity is The International Rescue Committee that has launched coronavirus preparedness and response programs in over 40 countries, including the US, Greece, Italy, Syria and Yemen. Our health teams are working around the clock to rapidly detect, respond and prevent further spread of the pandemic. The International Rescue Committee (IRC) responds to the world's worst humanitarian crises, helping to restore health, safety, education, economic well being, and power to people devastated by conflict and disaster. Founded in 1933 at the call of Albert Einstein, the IRC is at work in over 40 countries and 26 U.S. cities helping people to survive, reclaim control of their future and strengthen their communities. Highly rated by Charity Navigator.
INDIGENOUS PEOPLE
Indigenous tribes do not simply die out. They are killed by the actions of so-called civilized nations. Survival International provides a long list of cases in which a letter from you can and will make a difference. Please open this link and write at least one letter. This link will be a permanent feature on our blog and we would be grateful if you gave it a bit of attention each week. We suggest going down the list in the order given. The letters are pre-written for you. All you need to do is send them. It would be nice also if a donation to Survival International could be forthcoming.
A major calamity for indigenous people is the lack of respect for their basic human rights.Our vision is a world where tribal peoples are respected as contemporary societies and their human rights protected. We fight for tribal peoples' survival. We stop loggers, miners, and oil companies from destroying tribal lands, lives and livelihoods across the globe. We lobby governments to recognize indigenous land rights. We document and expose the atrocities committed against tribal people and take direct action to stop them. Our vision is a world where tribal peoples are respected as contemporary societies and their human rights protected.
he Sentinelese are an uncontacted tribe living on North Sentinal Island, one of the Andaman Islands in the Indian Ocean. They vigorously reject all contact with outsiders.
Survival International lobbies, protests and uses public pressure to ensure their wish to remain uncontacted is respected.
If not, the entire tribe could be wiped out by diseases to which they have no immunity.
Please help the Sentinalese people.
THE STRUGGLE AGAINST SLAVERY
We have added this section to the blog in order to join the struggle against slavery worldwide. This week we refer you to the the ILO's Protocol on Forced Labor which is all about modern slavery. We call your attention to the anti slavery campaign. There you can sign up for action updates.The importance of checking your sellers' supply chains cannot be overemphasized.
Look for these logos:
Find a campaign to work for. Light must be made to shine in the darkest of places. We invite you to join Freedom United and raise your voice to call upon China to stop enslavement of Uyghurs.
URGENT ACTION CASES
EGYPT
Urgent Action Update: Human Rights Defender's Health at Risk
On 31 October 2020, the pre-trial detention of human rights researcher Ibrahim Ezz el-Din was renewed for 45 days. His health has been deteriorating since his arrest on 11 June 2019 and his 167 days of enforced disappearance. Ibrahim's poor health puts him at increased risk of the effects of COVID-19 that has reportedly been spreading in Egypt's notoriously overcrowded and unhygienic prisons.
KYRGYZSTAN
Stop pressure on trade unions
Over the past two years, the trade unions of Kyrgyzstan have been fighting against the adoption of the Law "On Trade Unions". The bill significantly restricts the scope of trade union activities, dictates the internal structure of trade unions and places trade unions under the control of state bodies. Trade unions of Kyrgyzstan held protest actions against the adoption of the bill. In response, the authorities, on trumped-up charges, opened criminal cases against the leaders of the protesting trade unions and removed them from their posts. Trade union leaders and activists become targets of arrests, constant interrogations, provocations, and pressure. Union offices and union leaders' homes were ransacked, and union bank accounts seized. Support the demand of the trade unions by sending a message of protest to the President, Government and Parliament of Kyrgyzstan.
WORLDWIDE
Marriot
Global Sexual Harassment Campaign
CAMPAGNE MONDIALE CONTRE LE HARCÈLEMENT SEXUEL
CAMPAÑA MUNDIAL CONTRA EL ACOSO SEXUAL
GUINEA
SHERATON GRAND CONAKRY REINSTATE THE UNION LEADERS AT THE SHERATON GRAND CONAKRY!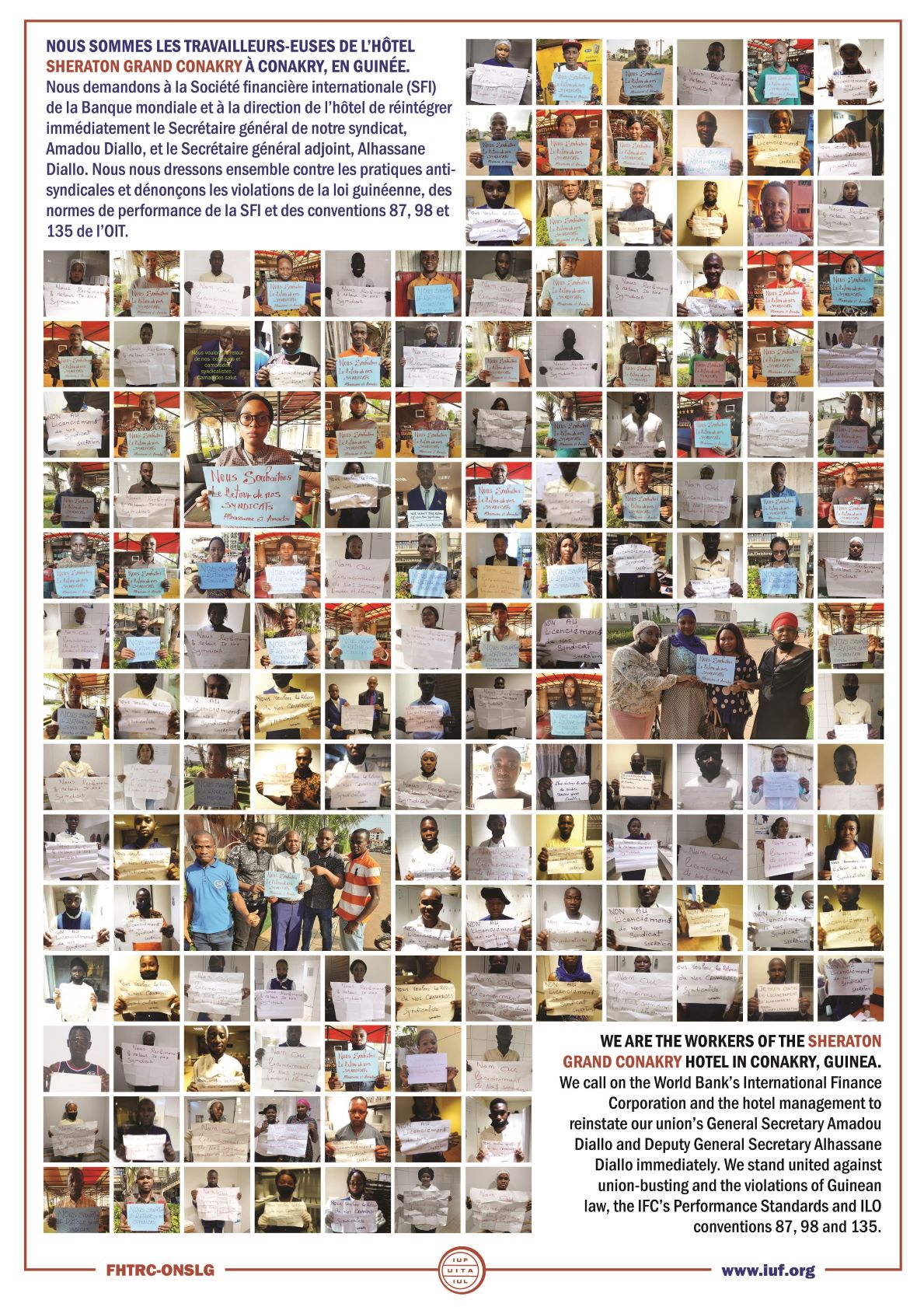 Only a few months after winning the union election, hotel union General Secretary Amadou Diallo (pictured right) and Deputy General Secretary Alhassane Diallo (pictured left) were sacked by their employer on October 7.
The facts:
on August 18, 2020, Mohamed Saliou Sampil, a worker at the Sheraton Grand Conakry, accidentally breaks a flower pot in the lobby
on August 26, management summons M. Sampil to a pre-termination interview, and General Secretary Amadou Diallo and Deputy General Secretary Alhassane Diallo meet with management to express their serious disagreement with the proposed termination of their colleague. Within days, hotel management suspends the two union leaders without pay
on September 16, management terminates M. Sampil despite his apology
on September 28, the union presents a petition signed by a majority of the hotel workers in support of M. Sampil
on October 7, management terminates hotel union General Secretary Amadou Diallo and Deputy General Secretary Alhassane Diallo
The hotel, owned by the Topaz group, was opened in 2016 with a significant investment from the World Bank Group's International Finance Corporation (IFC), an international financial institution that offers investments to encourage private sector development in developing countries at preferential loan rates. The hotel is managed by the largest hotel chain in the world, Marriott, where the IUF has an ongoing global campaign. Despite the IFC's Performance Standards, a set of rules intended to protect workers, and despite multiple attempts by the IUF to prevent the dismissal of the union leaders, the IFC has chosen to allow violations of its own Performance Standards as well as ILO Conventions 87, 98 and 135.
"The IUF will not tolerate such brazen violations of trade union rights, and so the IUF and its affiliates stand ready to launch our campaign for the reinstatement of General Secretary Amadou Diallo and Deputy General Secretary Alhassane Diallo," says IUF General Secretary Sue Longley.
"We must fight hard together. The importance of this struggle is to stop union-busting, because it kills workers hope and undermines democracy," adds General Secretary Amadou Diallo.