Our featured image shows our beloved Miriam, a great friend and human rights defender
CHARITY CORNER

With the apparent easing of the pandemic we turn our attention to other burning needs. We still encourage you to support Doctors without Borders who are fighting the virus in the places with the greatest need of support.
Now we call your attention to the Malala Fund. This is a an international, non-profit organization that fights for girls' education. It was co-founded by Malala Yousafzai, the Pakistani activist for female education and the youngest Nobel Prize laureate and her father, Ziauddin.
Preview in new tab(opens in a new tab)
The Malala Fund breaks down the barriers preventing more than 130 million girls around the world from going to school. Malala nearly paid for her advocacy with her life and is the youngest Nobel Peace Prize laureate. The fund is very worthy of your support.
INDIGENOUS PEOPLE
Indigenous tribes do not simply die out. They are killed by the actions of so-called civilized nations. Survival International provides a long list of cases in which a letter from you can and will make a difference. Please open this link and write at least one letter. This link will be a permanent feature on our blog and we would be grateful if you gave it a bit of attention each week. We suggest going down the list in the order given. The letters are pre-written for you. All you need to do is send them. It would be nice also if a donation to Survival International could be forthcoming.
A major calamity for indigenous people is forced contact with outsiders. Please raise your voice for them and their right to live as they choose. In particular, the Covid19 virus is particularly dangerous for the tribes in the Brazilian jungles. Throughout the world there are many tribes who choose to avoid contact with the outside world. Today they are under a threat of extinction from Covid-19 and should be protected. It matters not whether death is brought by miners and loggers or by missionaries.
As you can see, the issue is not only Brazil, but worldwide. It goes far beyond the present crisis and has to do with the infringement of their basic rights in the name of so-called "progress." For example we call your attention to the aboriginal people of Australia.
THE STRUGGLE AGAINST SLAVERY
We have added this section to the blog in order to join the struggle against slavery worldwide. This week we refer you to the the ILO's Protocol on Forced Labor which is all about modern slavery. We call your attention to the anti slavery campaign. There you can sign up for action updates.The importance of checking your sellers' supply chains cannot be overemphasized.
You can download this book
Look for these logos:
Find a campaign to work for. Light must be made to shine in the darkest of places. We invite you to join Freedom United and raise your voice against the the modern enslavement of prisoners, in particular black people in the United States.
The link contains an opinion piece for TRT World, in which journalist and analyst CJ Werleman argued that those who condemn the looting that has taken place the U.S. in the wake of George Floyd's death are shamefully silent when corporations, such as Starbucks, Victoria's Secret, and Target, among many others, effectively loot black communities.
URGENT ACTION CASES
MALTA
Urgent Action Victory! Asylum-Seekers Allowed to Disembark
Maltese authorities finally allowed the disembarkment of all asylum-seekers held on four ferry boats off Malta's territorial waters in the night of 6-7 June. The approximately 425 asylum-seekers had been transferred to the ferry boats after their rescue in the central Mediterranean. The disembarkment puts an end to their arbitrary and indefinite detention on the ferries, which for some of them, lasted over a month.
NO FURTHER ACTION IS REQUESTED. MANY THANKS TO ALL WHO SENT APPEALS.
In the night between 6 and 7June Maltese authorities finally allowed the disembarkment of approximately 425 asylum-seekers who were being held on four ferry boats off Malta's territorial waters. These asylum-seekers had been transferred to ferry boats chartered by Malta – private vessels used for coastal tourism – after being rescued in the central Mediterranean and were held in arbitrary and indefinite detention in conditions that were inadequate, in some cases for over a month. The disembarkment puts an end to the ordeal of the asylum-seekers on the ferry boats.
Since April 2020, Malta used Covid-19 to justify a decision not to authorize the disembarkment of people rescued in the central Mediterranean. Following several incidents involving failure to attend to boats in distress, Maltese authorities decided to transfer asylum-seekers rescued at sea to ferry boats, with the aim of forcing European Member States to relocate asylum-seekers and share the responsibility for their assistance.
After their rescue in different operations between the end of April and May, approximately 425 asylum-seekers were held on four ferry boats belonging to two private companies, Captain Morgan and Supreme Cruises, off Malta's territorial waters. Despite the ferry boats being unsuited to cater for the needs of those rescued at sea and unequipped for long stays, Maltese authorities arbitrarily detained asylum-seekers offshore, without indicating the expected length of their detention. Maltese authorities did not provide any justification for the detention either. Deprived of any contacts with the outside world, including UNHRC and any access to lawyers and information, asylum-seekers were de facto denied access to asylum and any effective remedy to challenge their arbitrary detention.
CHINA
Uyghur Businessman Imprisoned in Secret Trial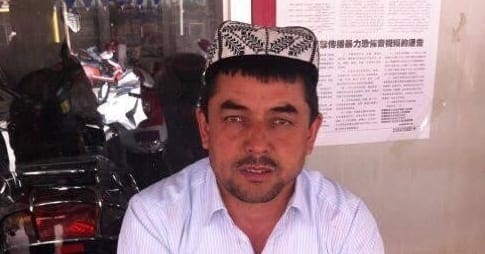 Abuduaini Kadier, a Uyghur businessman who was secretly tried and sentenced to seven years in prison, is believed to have been detained in connection with a 2016 holiday he took to Egypt in which he paid for several other Uyghurs' airfare. No information about his condition or even the charges against him have been shared with his family to date, and without regular access to family and legal representation, there are grave concerns for Abuduaini Kadier's condition and wellbeing.
ZIMBABWE
Urgent Action: Hospitalized Activists Risk Being Jailed

On 13 May, three opposition activists, member of parliament Joana Mamombe, Cecilia Chimbiri and Netsai Marova, were arrested at a police roadblock in Harare, Zimbabwe's capital, for leading an anti-government protest over the authorities' response to the COVID-19 pandemic and widespread hunger in the country. On the same day, they were forcibly disappeared from police custody. During their abduction, they were sexually assaulted and tortured. On 15 May, they were found abandoned in Bindura, 87km from Harare, and have since been in hospital. No investigation has been initiated into their disappearance and their credible allegations of torture, including sexual assault. On 26 May, police charged the activists with gathering with intent to promote public violence and breach of peace.
RUSSIAN FEDERATION
Urgent Action: Shaman in Psychiatric Detention for Criticizing Putin
On 2 June, the Yakutsk City Court approved the indefinite forcible psychiatric hospitalization of Aleksandr Gabyshev, a shaman who in 2019 announced he would march on foot from Yakutsk, in east Siberia, to Moscow "to purge" President Vladimir Putin from the Kremlin. Aleksandr Gabyshev is being targeted for his open criticism of the authorities and should not be arbitrarily deprived from his freedom or administered any medical treatment without his free and informed consent. Please support the workers.
MALAYSIA
Stop union busting at Edgenta UEMS
UEM Group Berhad, a Malaysian government linked company (GLC), through its subsidiary, Edgenta UEMS, is currently engaged in a vicious union busting campaign, aggressively victimizing frontline hospital cleaners and their worksite union officials. Please suppot the workers.
PERU
Reinstate workers sacked for demanding protection from Covid-19
UNI Commerce calls upon trade unions and workers worldwide to urge Falabella (a Chilean multinational home retailer) to reinstate 22 workers who have been dismissed for asking for better protection against Covid-19 in Peru. Following a temporary closure, the distribution centre of Falabella has been recently reopened in Peru. However, the company did not take necessary measures to protect workers from Covid-19. 22 workers used their legal right to refrain from work until precautions are properly placed. This action pushed the company to take better measures. The 22 workers returned to work; but the company dismissed all 22 workers without any compensation. While there are already at least 30 confirmed cases of Covid-19 in the distribution centre, Falabella management prefers to fight against the workers and union instead of working with them to fight against Covid-19.
You can support the 22 Peruvian workers by sending a message to the CEO of the company and the local management.