Our featured image shows our beloved Miriam, a great friend and human rights defender
CHARITY CORNER
This week we again call your attention to the coronavirus that is ravaging the world. If you wish to help victims of the virus, look up the appropriate agency in your country. We provide some recommendations for Israel and for the USA. For Israel, we provide here a detailed list of grantees of the New Israel Fund and their activities to ensure equality and compassion in the use of means provided by the government to all citizens of Israel, irrespective of their community, language or status. The covid-19 virus does not differentiate among its victims. During any public health crisis, equality and inclusion are not afterthoughts. During times like these, inequality becomes even more dire and dangerous. Because people on the margins of society are the most at-risk, their ability to access care and information is a matter of public safety — for everyone.
A most worthy recipient of your support is Doctors Without Borders who are making a special effort to work in countries with weak health systems. Here we show their belief that solidarity knows no borders.
A woman stops outside the COVID-19 pre-screening tent MSF teams have set up at the entrance of Bamenda's St Mary Soledad hospital in the country's northwest region. MSF is supporting regional hospitals here and in the southwest with pre-screening points at hospital entrances, helping implement COVID-19 isolation and treatment wards, and training medical and nonmedical staff. Cameroon 2020 © Freida Nemkul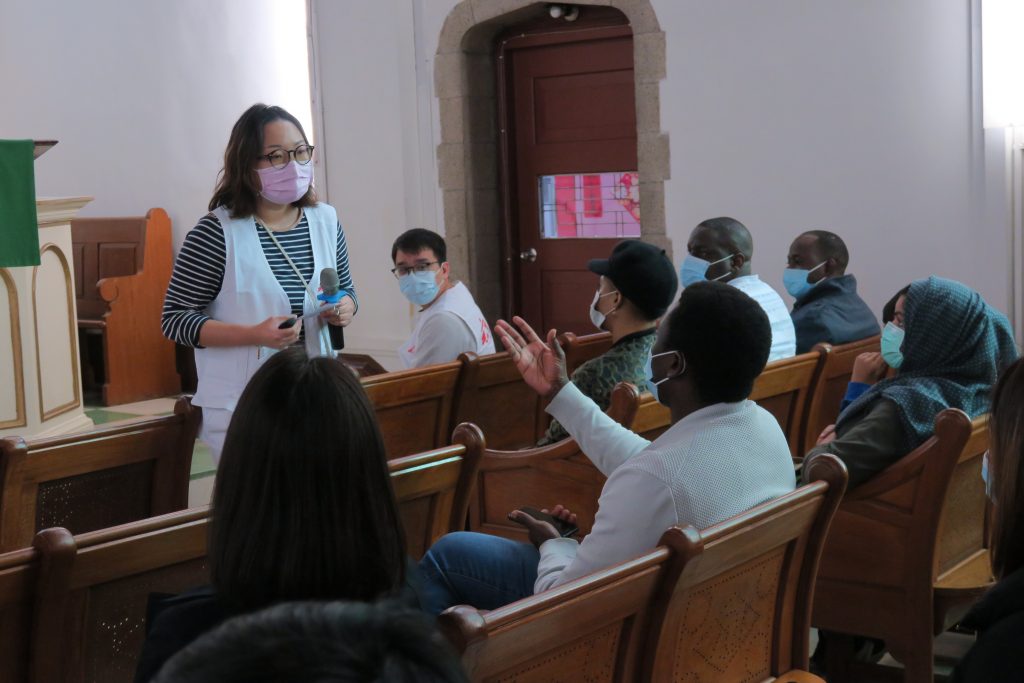 INDIGENOUS PEOPLE
Indigenous tribes do not simply die out. They are killed by the actions of so-called civilized nations. Survival International provides a long list of cases in which a letter from you can and will make a difference. Please open this link and write at least one letter. This link will be a permanent feature on our blog and we would be grateful if you gave it a bit of attention each week. We suggest going down the list in the order given. The letters are pre-written for you. All you need to do is send them. It would be nice also if a donation to Survival International could be forthcoming.
A major calamity for indigenous people is forced contact with outsiders. Please raise your voice for them and their right to live as they choose. In particular, the Covid19 virus is particularly dangerous for the tribes in the Brazilian jungles. Throughout the world there are many tribes who choose to avoid contact with the outside world. Today they are under a threat of extinction from Covid-19 and should be protected. It matters not whether death is brought by miners and loggers or by missionaries.
As you can see, the issue is not only Brazil, but worldwide. It goes far beyond the present crisis and has to do with the infringement of their basic rights in the name of so-called "progress."
We are pleased to announce a victory on behalf of uncontacted tribes in Brazil.
In a landmark ruling, a Brazilian judge has blocked evangelical missionaries from making contact with uncontacted tribes in the Javari Valley, home to the greatest concentration of such peoples anywhere on Earth.
The lawsuit was brought by UNIVAJA, the indigenous organization of the Javari Valley, to counter concerted efforts by the missionaries to reach uncontacted communities.
Kenampa Marubo, leader of UNIVAJA, the indigenous organization of the Javari Valley.© Silia Moan/UNIVAJA.
Contact with outsiders can be lethal for an entire tribe.
The illegal mining and logging going on while the Brazilian government turns a blind eye is having a devastating effect on indigenous uncontacted peoples.
Tupá, a Matis woman, near the Itui river in the Javari Valley, Brazil. The Matis were devastated by western diseases after they were first contacted in the 1970s. Over half of the Matis died in the year following contact. Their numbers have risen from a low of 87 to around 500 today, but the Brazilian government is not doing enough to protect their health.© Fiona Watson/Survival
THE STRUGGLE AGAINST SLAVERY
We have added this section to the blog in order to join the struggle against slavery worldwide. This week we refer you to the the ILO's Protocol on Forced Labor which is all about modern slavery. We call your attention to the anti slavery campaign. There you can sign up for action updates.The importance of checking your sellers' supply chains cannot be overemphasized.
You can download this book
Look for these logos:
Find a campaign to work for. Light must be made to shine in the darkest of places. We invite you to join Freedom United and raise your voice against the importation of slave produced palm oil. In response to the spread of the virus, the U.S. Customs and Border Protection have been loosening their regulations. We are concerned this might lead to more exploitation and forced labor on palm oil farms and other exports.
URGENT ACTION CASES
VIET NAM
'Cam Nang Nuoi Tu' (A Handbook for Families of Prisoners) is among the titles banned by Vietnam's government. (Photo courtesy of Liberal Publishing House)
Urgent Action: Independent Booksellers Tortured by Police
Two members of the Liberal Publishing House – a local independent publisher that sells books considered sensitive by the government – have been detained and tortured by police in Ho Chi Minh City. Since early October 2019, police have harassed and intimidated dozens of people connected to the Liberal Publishing House in what appears to be a targeted campaign. The individuals who have been targeted are believed to have either bought or read books printed by the publisher, or to have worked for the publishing house.
TAKE ACTION
ANGOLA
Urgent Action: Activists Facing Harassment and Intimidation
Members of the non-governmental organization Mission of Beneficence Agriculture of Kubando, Inclusive Technologies and Environment (MBAKITA) are facing harassment and intimidation, including death threats and attacks, in Cuando Cubango province, Southern Angola, because of their work for the defense and promotion of the rights of people from ethnic minorities in Southern Angola.
TAKE ACTION
VENEZUELA
Urgent Action: Arbitrary Detainee Held Incommunicado
On 2 April 2020, officers of the Venezuelan Directorate for Military Counterintelligence (DGCIM) raided the home of Maury Carrero in Caracas (Capital) and detained her arbitrarily for reportedly being linked to an advisor to Juan Guaidó, President of the National Assembly. She has had almost no contact with her attorneys and family and has been held incommunicado since 1 May. Maury Carrero is at risk of torture and enforced disappearance, which are common in the country. We demand Maury's release as her judicial case is processed, with all due process guarantees, protection of her integrity, and immediate access to her family and lawyers.
CANADA
Help Protect Food Processing Workers! ACT NOW!
Food processing workers at meat plants across Canada are working hard on the front lines to make protein products for families and neighborhoods across the country.
There have been more than 1,400 confirmed COVID-19 cases of food processing workers, so far. Some of these workers battling COVID-19 are in critical condition and some have died.
The federal government recently announced $77 million for food processing companies – in response to the pandemic – but the details of how the money will be distributed are still uncertain.
Food workers must have a central role in determining the conditions and criteria for the "Emergency Processing Fund."
CAMBODIA
Release jailed trade union leader
Mrs. Soy Sros, president of the CUMW local union at Superl Cambodia, has been arrested and imprisoned for a Facebook post criticizing the suspension of union members, including a pregnant woman, during the corona virus crisis. On 2 April, she was arrested for 'provocation' under the criminal code. She remains in detention and her health is deteriorating. If the site comes up with my details, erase them and put in your own. Sometimes sites are over friendly…