Our featured image shows our beloved Miriam (1947-2012), a great friend and human rights defender
HE WHO PERMITS OPPRESSION PERMITS CRIMES.-Desiderius Erasmus (1466-1536)
CHARITY CORNER
This week we again call your attention to the coronavirus that is ravaging Asia and soon the rest of the world. If you wish to help, the writer and activist Trang Chu Minh, who writes for Cause-Artist, has compiled a list of NGO's that are helping and need support under the title Meet the Organizations Leading the Charge Against the Coronavirus Epidemic in Asia. We suggest you open this file and choose your beneficiary.s foundation is most worthy of your support.
WINGS FOR SPECIAL KIDS.
We are adding a call to support Krembo Wings, an Israeli non-profit organization which brings children with and without disabilities together for weekly social activities in its branches across Israel. Krembo Wings serves children and youth of all backgrounds and reflects the diverse make-up of Israeli society. Krembo Wings motto is Together Creating a Meaningful Place for Everyone. The society provides a warm and friendly environment for children and adults who have special needs. This call will be a permanent feature of this blog. Please donate to this worthy cause,
INDIGENOUS PEOPLE
Indigenous tribes do not simply die out. They are killed by the actions of so-called civilized nations. Survival International provides a long list of cases in which a letter from you can and will make a difference. Please open this link and write at least one letter. This link will be a permanent feature on our blog and we would be grateful if you gave it a bit of attention each week. We suggest going down the list in the order given. The letters are pre-written for you. All you need to do is send them. It would be nice also if a donation to Survival International could be forthcoming.
A major calamity for indigenous people is eviction from their lands in the name of conservation. We know that tribal people are the best conservators of their environment. Please raise your voice for them.
In view of the coronavirus pandemic, we bring you a message from the head of survival international.
THE STRUGGLE AGAINST SLAVERY
We have added this section to the blog in order to join the struggle against slavery worldwide. This week we refer you to the the ILO's Protocol on Forced Labor which is all about modern slavery. We call your attention to the anti slavery campaign. There you can sign up for action updates.The importance of checking your sellers' supply chains cannot be overemphasized.
Look for these logos:
Look for these logos:
Find a campaign to work for. Light must be made to shine in the darkest of places. We invite you to join Freedom United and raise your voice against the marketing of the products of slavery. We also link you to a message from the director of Survival International.
URGENT ACTION CASES
CHINA
Urgent Action: Fears for Female Activist Held Incommunicado
Li Qiaochu, an active defender of the rights of women and workers, was taken away by police in Beijing on 16 February 2020. Detained in an unknown location, her arrest is suspected to be related to her activism against gender violence and the fact that her partner, Xu Zhiyong, attended an informal gathering of lawyers and activists in Xiamen in December 2019. Without access to her family and a lawyer of her choice, there are grave concerns that Li Qiaochu is at risk of torture or other ill-treatment.
NIGER
Urgent Action: Journalist Detained for Social Media Post
Journalist Mamane Kaka Touda is currently being detained at Niamey Civil Prison, Niamey, Niger, having published a post on social media regarding a suspected case of COVID-19 infection in the Emergency Department of the Niamey Reference Hospital on 5 March. He was arrested at home on the same day and charged with "disseminating data tending to disturb public order".
TUNISIA
Urgent Action: Lawyer on Trial at a Military Court
Human rights lawyer Najet Laabidi faces trial before a military court on charges of "insulting a public official while performing their duty". She risks up to two years in prison. The trial is a result of a complaint filed by a military judge who was presiding over the trial of former regime officials being prosecuted for torture. As the defense lawyer for victims of torture in this case, Laabidi flagged a number of violations during her pleading and questioned the impartiality of the military judge. The military judge subsequently filed complaints against Laabidi in 2015. She appeared in front of the military court and is awaiting a verdict on 12 March 2020.
TAKE ACTION
BURUNDI
Urgent Action Update: Journalists Sentenced to Imprisonment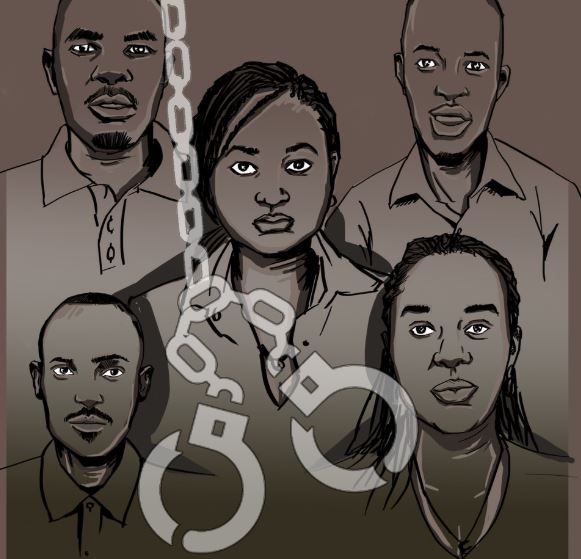 On 30 January, the Bubanza Tribunal in northern Burundi sentenced journalists Agnès Ndirubusa, Christine Kamikazi, Egide Harerimana and Térence Mpozenzi to two years and six months in prison. The initial charge of "conspiring to undermine state security" was changed during the sentencing to a charge of "impossible attempt to undermine state security". The tribunal acquitted their driver, Adolphe Masambarakiza. The four have appealed their sentence. Amnesty International believes the four are being persecuted simply for doing their legitimate work as journalists.