Our featured image shows our beloved Miriam (1947-2012) a dear friend and great human rights defender
HE WHO PERMITS OPPRESSION PERMITS CRIMES.-Desiderius Erasmus (1466-1536)
CHARITY CORNER
This week we turn our attention to Doctors Without Borders.
Médecins Sans Frontières (MSF; pronounced [medsɛ̃ sɑ̃ fʁɔ̃tjɛʁ] (listen)), sometimes rendered in English as Doctors Without Borders, is an international humanitarian medical non-governmental organisation (NGO) of French origin best known for its projects in conflict zones and in countries affected by endemic diseases. In 2015, over 30,000 personnel — mostly local doctors, nurses and other medical professionals, logistical experts, water and sanitation engineers and administrators — provided medical aid in over 70 countries.[1] Most staff are volunteers. Private donors provide about 90% of the organization's funding, while corporate donations provide the rest, giving MSF an annual budget of approximately US$1.63 billion.[2]
Médecins sans frontières was founded in 1971, in the aftermath of the Biafra secession, by a small group of French doctors and journalists who sought to expand accessibility to medical care across national boundaries and irrespective of race, religion, creed or political affiliation.[3] To that end, the organisation emphasizes "independence and impartiality", and explicitly precludes political, economic, or religious factors in its decision making. For these reasons, it limits the amount of funding received from governments or intergovernmental organisation. These principles have allowed MSF to speak freely with respect to acts of war, corruption, or other hindrances to medical care or human well-being. Only once in its history, during the 1994 genocide in Rwanda, has the organization called for military intervention.

INDIGENOUS PEOPLE
Indigenous tribes do not simply die out. They are killed by the actions of so-called civilized nations. Survival International provides a long list of cases in which a letter from you can and will make a difference. Please open this link and write at least one letter. This link will be a permanent feature on our blog and we would be grateful if you gave it a bit of attention each week. We suggest going down the list in the order given. The letters are pre-written for you. All you need to do is send them. It would be nice also if a donation to Survival International could be forthcoming.
A major calamity for indigenous people is destruction of their culture. Please raise your voice against factory schools designed to reprogram children to fit the dominant society.
THE STRUGGLE AGAINST SLAVERY
We have added this section to the blog in order to join the struggle against slavery worldwide. This week we refer you to the the ILO's Protocol on Forced Labor which is all about modern slavery. We call your attention to the anti slavery campaign. There you can sign up for action updates.The importance of checking your sellers' supply chains cannot be overemphasized.
You can download this book
Look for these logos:
Find a campaign to work for. Light must be made to shine in the darkest of places. We invite you to join Freedom United and raise your voice for freedom for girls.
https://www.freedomunited.org/cel/16929
URGENT ACTION CASES
SRI LANKA
Urgent Action Victory! Supreme Court Suspends All Execution Warrants
The Sri Lankan Supreme Court, while hearing the petitions to halt executions of death row prisoners, suspended all execution warrants until 29 October, the next date of hearing. This is a huge source of relief, as the 13 prisoners are no longer in imminent danger of being hanged.

NO FURTHER ACTION IS REQUESTED. MANY THANKS TO ALL WHO SENT APPEALS.
The Sri Lankan Supreme Court announced on 5 July 2019 that it has suspended all execution warrants until its next hearing date on 29 October. The bench will then resume hearing the twelve Fundamental Rights petitions that were filed in response to the announcement by President Maithripala Sirisena on 26 June 2019 that he had signed four execution warrants, and that the hangings would be carried out in the coming days. The petitions state that the arbitrary selection of four prisoners and that the secrecy shrouding plans and preparations for executions having violated the rights of the prisoners. The court decision comes against the backdrop of widespread opposition to plans to implement the death penalty in Sri Lanka. There has been resistance in the courts, in the media, on the streets, on social media, from all sides of parliament, and from the international community. This was the third time that the president tried to revive the death penalty in Sri Lanka, where the last execution took place in 1976. Amnesty International had repeatedly called on President Sirisena to halt his plans to resume executions, making clear that the death penalty does not have a unique deterrent effect on crime. You have been an important addition to that chorus of voices that have proven why we must resist injustice everywhere it happens.
CHINA
Urgent Action Update: Uyghur Activist's 30 Relatives Still Detained
Up to 30 relatives of Uyghur human rights activist Rebiya Kadeer, who currently lives in the United States, have been detained for nearly two years in the Xinjiang Uyghur Autonomous Region (Xinjiang) without trial. The exact date that they were taken away remains unclear, however it is presumed they are being arbitrarily detained at a political re-education camp and are at risk of torture or other ill-treatment. Among those detained are Kadeer's sisters, brothers, sons, grandchildren and extended relatives who have for many years been targeted by the Chinese authorities to try silence Rebiya Kadeer.

ITALY

Urgent Action Update: Roma Still Homeless After Forced Eviction
Around 500 Roma people, including around 150 children, pregnant women and older people, were left homeless after being forcibly evicted by authorities from their settlement in the municipality of Giugliano in Campania, in southern Italy, on 10 May. The families have since found shelter in an industrial area but urgently need adequate alternative housing solutions. Authorities must urgently comply with European mechanisms' request that Italy adopts immediate measures to eliminate the risk of serious and irreparable harm and guarantee Roma families' rights and safety.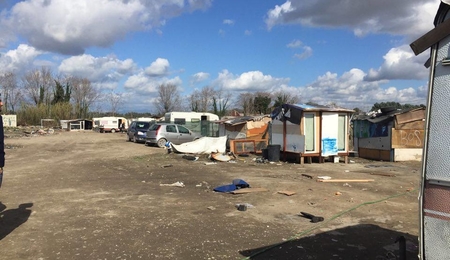 SOUTH SUDAN
Urgent Action: Security Agent Ill-Treated in Detention
Ding Ding Mou, a South Sudanese security agent, is detained at the Riverside detention center – notorious for its extremely poor conditions and incidents of torture and other forms of ill-treatment. He was arbitrarily arrested by the National Security Service (NSS) in Juba on 31 May. He was first detained at the NSS headquarters, known as 'Blue House' for eight days.