Our featured image expresses what Prometheus and Pandora think of the war on reproduction rights taking place in the US and elsewhere.
IN MEMORIAM
MIRA ZAKAI 21 September 1942-20 May 2019
Prometheus and Pandora and their friends mourn the loss of a great singer, musician and teacher. She died while in recovery from a stroke that she had experienced a year ago.Mira Zakai performed with most of the world's top conductors and orchestras. Norman Lebrecht has written a beautiful appreciation of her. Since retiring from the concert stage, Mira Zakai became Head of Lied and Oratorio at the Buchmann-Mehta School of Music of Tel Aviv University. We all are grateful for the pleasure she gave us. May she rest in peace.
Sir Yehudi Menuhin chose her to be the only soloist in a special concert for Pope John Paul II – an event which took place at Castel Gandolfo – to sing Bach's aria "Have mercy oh God" [Erbarme dich mein Gott] with him playing the violin obbligato part. This concert was telecast world-wide. She had previously appeared at Menuhin's festival as a soloist in Bach's Mass in B minor. Her 1982 recording of Mahler's Symphony No. 2 with Georg Solti won the Grammy for Best Overall Classical Recording at the 1982 awards. An acclaimed recitalist – Miss Zakai performed in the leading European and American cities as well as in her own country
Murray Gell-Mann September 15, 1929 – May 24, 2019
He was an American physicist who received the 1969 Nobel Prize in Physics for his
work on the theory of elementary particles. He was the Robert Andrews Millikan Professor of Theoretical Physics Emeritus at the California Institute of Technology, a distinguished fellow and one of the co-founders of the Santa Fe Institute, a professor of physics at the University of New Mexico, and the Presidential Professor of Physics and Medicine at the University of Southern California.
Gell-Mann spent several periods at CERN, a nuclear research facility in Switzerland, as a John Simon Guggenheim Memorial Foundation fellow in 1972.
Gell-Mann was known for his ability to bring order into confusing sets of phenomena. He introduced the concept of "strangeness," a quantum property that accounted for previously puzzling decay patterns of certain mesons. As defined by Gell-Mann, strangeness is conserved when any subatomic particle interacts via the strong force i.e., the force that binds the components of the atomic nucleus.
As his former colleague Sean Caroll writes in an appreciation in the NYTimes "There are many ways to become an influential theoretical physicist. Some produce creative new ideas, while others are masters of intricate calculations. Some are best at speculating about the unknown, while others bring clarity and insight to established lore. Part of what made Dr. Gell-Mann special was his mastery of all these modes. His work with Francis Low on the "renormalization group" taught physicists how phenomena at high energies and short distances could be elegantly related to what happens at low energies and long distances. This philosophy remains the central organizing principle of much of modern physics."
He played a major role in developing the Standard Model of Physics that keeps particles in order. He had countless other achievements, too many to list here. A detailed obituary can be found in the NYTimes.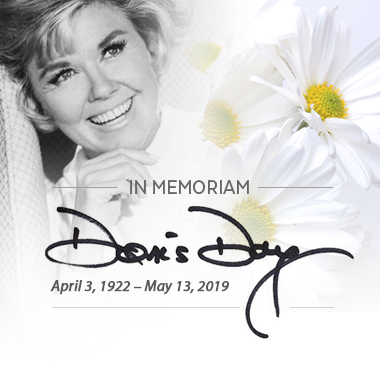 DORIS DAY was born Doris Mary Ann Von Kappelhoff in 1922. Her career as a singer, dancer and actress spanned five decades. She made nearly three dozen films and more than 600 recordings. At the height of her career, she topped both the billboard and the box office charts. Day died of pneumonia on May 13 at the age of 97. A detailed description of her life and career can be found on her Web site and on NPR. The song Que Sera became her signature song after she sang it in a Hitchcock film. A detailed obituary may be found in the NYTimes.
HERMAN WOUK May 27, 1915 – May 17, 2019
Herman Wouk died at age 103. His best known book The Caine Mutiny (1951) won the Pulitzer Prize. Other major works include The Winds of War and War and Remembrance, historical novels about World War II, and non-fiction such as This Is My God, an explanation of Judaism from a Modern Orthodox perspective, written for Jewish and non-Jewish audiences. His books have been translated into 27 languages.

"He really was the Jackie Robinson of Jewish American fiction," says Jonathan Karp, president and publisher of Simon & Schuster and editor of Wouk's last book, Sailor and Fiddler. "He was on the cover of Time magazine for Marjorie Morningstar, and he popularized a lot of themes that other writers — like [Saul] Bellow and [Philip] Roth and [Bernard] Malamud — would deal with in their novels."

Wouk quite often fared better with the reading public than with the establishment critics. The New York Times called The Winds of War long and "mildly interesting" with an "indifference to quality" and a "reliance on clichés." Karp attributes these attitudes to his accessibility. In fact, Wouk wrote about serious matters including the Holocaust and issues of Jewish life in the US. His generation will remember him well.
RANT I
The very restrictive laws against abortion passed by the legislatures of Alabama and Georgia in the US are a huge step backward for reproductive freedoms in the United States. The bill that the Republican-controlled Alabama Legislature overwhelmingly passed seeks to prohibit abortions at every stage of pregnancy. It includes an exception for cases where a woman's health is at "serious" risk, but lawmakers rejected a proposal to add exceptions for cases of rape or incest.
Women who have abortions will not be prosecuted under the measure, but, if the courts allow the law to stand, doctors could be charged with a felony and face up to 99 years in prison for performing the procedure. Supporters of abortion rights have promised to challenge the measure in court. The expected legal battle could stop the restrictions entirely, or at least substantially delay them.
"Alabama politicians will forever live in infamy for this vote, and we will make sure that every woman knows who to hold accountable," said Staci Fox, the president of Planned Parenthood Southeast Advocates. "In the coming days, we will be mounting the fight of our lives — we will take this to court and ensure abortion remains safe and legal."

For Senator Elizabeth Warren, the moment brought up memories of "back alley butchers" and "desperate women." Senator Kamala Harris compared it to "a scene from 'The Handmaid's Tale.'" And Senator Kirsten Gillibrand warned about a "war on women," calling for Americans to "fight like hell."
The measure was also assailed by Mr. Sanders, former Representative Beto O'Rourke of Texas and other candidates, who said the bill trampled on a woman's right to make decisions about her own body.
Several of the candidates used this week's development in Alabama to speak more broadly about other policy and political matters, especially the judiciary. Mr. Sanders linked abortion access to his signature policy push, "Medicare for all."
"Abortion is health care," he tweeted. "When we pass Medicare for All, we will be guaranteeing a woman's right to control her own body by covering comprehensive reproductive care, including abortion."
Pandora and Prometheus note the outrage that arises when affluent American women are threatened. They would like to point out that in other countries the situation is much worse. Leaders in Central American countries such as El Salvador,Honduras and Nicaragua buy the political support of the Catholic church hierarchy by enacting draconian laws on abortion and contraception. In these countries a woman can be and has been sentenced to prison for having a natural miscarriage. It is obscene that this could happen in Georgia. The new law there implies that in addition to banning abortion after a heartbeat can be detected, its personhood provisions would seem to allow for women who perform their own abortions, travel out of state for an abortion, or are found to be responsible for a miscarriage to be charged with murder. A survey published in Haaretz (Israel daily) shows that in some Muslim-majority countries in the Middle East the law books are more lenient than in Alabama or Georgia, although abortion laws in about half of the Muslim-majority countries are as restrictive as the bills pushed forth in those southern U.S. states.
We can only hope that these extreme measures taken by the Republicans will galvanize a response that will send Trump and his administration packing in 2020.
RANT II
Prometheus and Pandora have ranted loud and clear in the past about anti-vaxxers and the danger they pose to themselves, their children and the community at large. They would like to post a graphic shared by Shira that puts it very well.
RANT III
Prometheus and Pandora share the disgust of many good people at the treatment of the Palestinians by the Trump administration. We link you to a series of articles in Forward that starts with Peter Beinart castigating most of the Democratic presidential wannabees (except Sanders) for their mealy-mouth statements to the American Jewish Committee.
BOOK REVIEW
How Shostakovich Changed My Mind
by Stephen Johnson
$17.06 $18.95
(10% off)
Hardcover
BBC music broadcaster Stephen Johnson explores the power of Shostakovich's music during Stalin's reign of terror, and writes of the extraordinary healing effect of music on sufferers of mental illness. Johnson looks at neurological, psychotherapeutic, and philosophical findings and reflects on his own experience, where he believes Shostakovich's music helped him survive the trials and assaults of bipolar disorder.
There is no escapism, no false consolation in Shostakovich's greatest music: this is some of the darkest, saddest, at times bitterest music ever composed. So why do so many feel grateful to Shostakovich for having created it—not just Russians, but westerners like Stephen Johnson, brought up in a very different, far safer kind of society? The book includes interviews with the members of the orchestra who performed Shostakovich's Leningrad Symphony during the siege of that city.
SOME OF THE CRITICAL PRAISE
… an intensely readable, highly personal analysis of the major
works of a composer, who, Mr. Johnson decides, has recorded a
collective experience for an all-inclusive listenership … All great
music teeters the edge of madness. This troubled writer makes a
convincing case that the music of Dmitri Shostakovich helped to
save his mind. In life's crises, he suggests, each of us comes up
against an internal siege of Leningrad, and music comes to your
relief." —Norman Lebrecht, The Wall Street Journal "
… palpably humane, sensitive, and breathably erudite … How Shostakovich
Changed My Mind is … a deeply felt and well-considered work — and
anyone who cares about music, the mind, or personal struggle can
learn from its depths." —Nicholas Cannariato, NPR
"How Shostakovich Changed My Mind is one of the most powerful, honest, and profound revelations that exists on what it is that music means and does:
it's just an essential document." —Tom Service, Music Matters (BBC)
"The book ranges well beyond Shostakovich's work, and explores how
we perceive music, the distorting effects of depression and how
music can reconnect us to emotions and fellow humanity… Johnson argues that Shostakovich…testified on behalf of fellow humanity, his music concerned with 'we' rather than 'I'. Part of Shostakovich's attraction is that while he suffers he knows—and reminds his fellow sufferers—that we do not suffer alone." —BBC Music Magazine
"Strangely, anguished music can be the most comforting: using a delicate, self-deprecating style and references compassing everything from Greek drama to the Moomins, Johnson explores the way Shostakovich provides catharsis, transforming the personal 'I' into the collective 'we.' Profoundly moving." —The Sunday Times,
"The Best Classical Music Books of 2018" "
How Shostakovich Changed my Mind is short enough and eloquent enough to
read comfortably at a single two-hour stretch, without skipping over a single word … Many readers will surely find ideas in it that resonate with their own experience of Shostakovich's music, and be grateful for having so many of them gathered so tightly together."—Gramophone
"Stephen Johnson is one of our most sensitive and thoughtful music critics, and this book, written from the heart about a composer whom he loves and admires, will prove to be a landmark in the understanding of its subject." —Sir Roger Scruton

"I started reading and was hooked. Within a few pages I knew I had fallen into the company of the most wonderful interlocutor. Stephen Johnson takes the reader from the most profound meditations on music, to delicious anecdotes about Shostakovich, to penetrating observations about the nature of art and the way it may rescue us from despair. I finished it inspired by a sense of human possibility."
—Raymond Tallis in goodreads
TIDBITS FROM SCIENCE
NEWS FROM TRITON

In 1989 we had the privilege of participating in the Voyager II flyby encounter with Neptune and its large moon Triton. It is, therefore, of great interest to us that new information on Triton has been obtained by means of the 8-meter Gemini South Telescope in Chile. In the icy surface a molecule consisting of molecular nitrogen and carbon monoxide has been found. On earth they exist as separate gases, but on distant Triton,however, carbon monoxide and nitrogen freeze as solid ices. They can form their own independent ices, or can condense together in the icy mix detected in the Gemini data. This is exciting to some of us. The oddball molecule has also been created in the lab.
BOSON PAIRS?
Since the discovery of the Higgs boson in 2012, the standard model has passed all the tests. Now scientists hope that a new type of physics might emerge from multiple bosons. Experimenters at the LHC, located at CERN, the European particle physics laboratory near Geneva, Switzerland, plan to hunt for collisions that produce not just one Higgs boson, but two. Finding more of these rare double-Higgs events than expected could point to particles or forces beyond the standard model and might even help explain the imbalance of matter and antimatter in the universe.
SILLY TIME
Everybody Out

Is there enough energy to move the entire current human population off-planet?
—Adam
The answer is interesting.
We all love nature…
We love our social media or do we?