Our featured image shows our beloved Miriam, a great friend and human rights defender
HE WHO PERMITS OPPRESSION PERMITS CRIMES.-Desiderius Erasmus (1466-1536)
Desiderius Erasmus in 1523 as depicted by Hans Holbein the Younger. The Greek and Latin words on the book translate to "The Herculean Labors of Erasmus of Rotterdam".
CHARITY CORNER
This week we call upon you to support the Doris Day Animal Foundation whose founder has just passed away at age 97. This great actress/singer was an animal rights activist who devoted great efforts to finding homes for unwanted or homeless pets. She found homes for thousands, but came to realize that addressing the root cause of homeless pet overpopulation through spay/neuter was the key. To complement the Doris Day Pet Foundation, she formed the Doris Day Animal League in 1987, a national non-profit citizens' lobbying organization, whose overriding mission is to reduce the pain and suffering of non-human animals through legislative initiatives, education and programs to develop and enforce statutes and regulations protecting animals. In 1995 Doris and DDAL founded Spay Day USA. Now known as World Spay Day and under the auspices of the Humane Society of the United States, this annual event has reached global proportions and has helped spay and neuter more than 1.5 million animals in the first 15 years since inception. In 2007, the Doris Day Animal League merged with the Humane Society of the United States for an even greater legislative voice in Washington.
Please donate in her memory.
INDIGENOUS PEOPLE
Indigenous tribes do not simply die out. They are killed by the actions of so-called civilized nations. Survival International provides a long list of cases in which a letter from you can and will make a difference. Please open this link and write at least one letter. This link will be a permanent feature on our blog and we would be grateful if you gave it a bit of attention each week. We suggest going down the list in the order given. The letters are pre-written for you. All you need to do is send them. It would be nice also if a donation to Survival International could be forthcoming. They are the best conservationists--help that fact go viral.
Please step up for the Baka people of Central Africa whose way of life is under threat.
THE STRUGGLE AGAINST SLAVERY
We have added this section to the blog in order to join the struggle against slavery worldwide. This week we refer you to the the ILO's Protocol on Forced Labor which is all about modern slavery. We call your attention to the anti slavery campaign. There you can sign up for action updates.The importance of checking your sellers' supply chains cannot be overemphasized.
You can download this book
Look for these logos:
Find a campaign to work for. Light must be made to shine in the darkest of places. We invite you to join Freedom United        and call to End the Criminalization of Child Sex Trafficking Victims
URGENT ACTION CASES
VENEZUELA
Urgent Action: Parliamentarian Disappeared in Venezuela
The fate and whereabouts of Venezuelan opposition member of parliament Gilber Caro are unknown since 26 April 2019, when intelligence officers took him at a restaurant in Caracas, according to reports. Gilber Caro was arbitrarily detained from January 2017 until June 2018, under unfounded accusations of treason and stealing military equipment. His detention and disappearance in April 2019 is arbitrary since it reverses the freedom he was granted in June under political motives. We call on the Director of the Bolivian National Intelligence Service (SEBIN) to swiftly provide information on Gilber Caro's fate and whereabouts and to release him immediately.

HONDURAS
Urgent Action: Land Defenders at Risk
Rosalina Dominguez, her four sons and two members of the community of Río Blanco, Intibucá, in Honduras were threatened last 30 April and 1 May 2019. The community members are afraid that this might be the beginning of a new wave of attacks against them after previous threats for protesting the Agua Zarca Dam together with the Civic Council of Popular Indigenous Organizations of Honduras (COPINH). We urge the Minister of Human Rights to immediately guarantee the safety of Rosalina Domínguez, her family, members of Río Blanco and COPINH and to investigate any attacks against them.
POLAND
Urgent Action: Stop Harassment of Human Rights Activist
On 6 May at around 6am the police raided the home of prominent human rights defender Elżbieta Podleśna, arrested her and kept her in detention for several hours. The police claimed to have found in her home copies of posters depicting the Virgin Mary with a halo around head and shoulders in the colours of the LGBTI flag and she is being investigated for "offending religious believes", a criminal offence that carries up to two years' imprisonment. Elżbieta Podleśna is being targeted for her human rights activism and this absurd investigation must be stopped.

BANGLADESH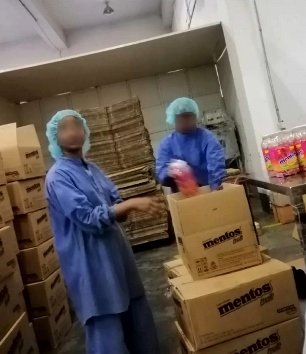 Union members assaulted at Perfetti Van Melle Bangladesh after calling for an end to child labor. Please click and join the protest.