Our featured image shows our beloved Miriam, (1947-2012) a great friend and human rights defender
HE WHO PERMITS OPPRESSION PERMITS CRIMES.-Desiderius Erasmus (1466-1536)
CHARITY CORNER
This week we call your attention to the disasters in southern Africa. Mozambique was lashed with two deadly cyclones, Idal in March and six weeks later Kenneth in late April. There had been no such cyclones in a decade and now two in close sequence. UN weather experts say it is unprecedented for two cyclones of such intensity to hit Mozambique in the same season.
The World Meteorological Organization (WMO) also said that no previous records show a cyclone striking the region as far north as Kenneth.It said a fact-finding mission would examine the "impact of climate change and sea-level rise on Mozambique's resilience" to extreme weather.
The devastation is catastrophic and the need for both rapid emergency aid and long term help in rebuilding is huge. Many governments and NGO's are trying to help and we call upon you to step forward with donations. You might consider the Mercy Corps or Oxfam for example.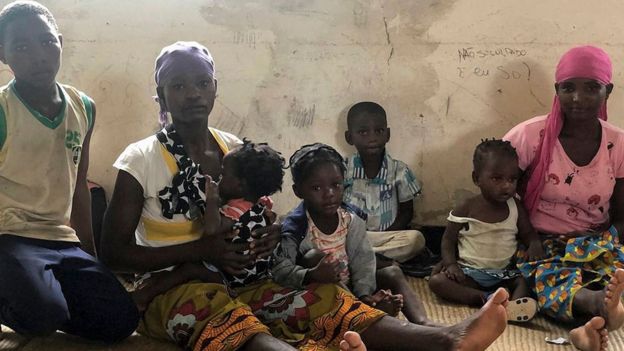 INDIGENOUS PEOPLE
Indigenous tribes do not simply die out. They are killed by the actions of so-called civilized nations. Survival International provides a long list of cases in which a letter from you can and will make a difference. Please open this link and write at least one letter. This link will be a permanent feature on our blog and we would be grateful if you gave it a bit of attention each week. We suggest going down the list in the order given. The letters are pre-written for you. All you need to do is send them. It would be nice also if a donation to Survival International could be forthcoming. They are the best conservationists--help that fact go viral.
A major calamity for indigenous people is enforced contact which can be deadly. Please act for people on the Peruvian contact border.
THE STRUGGLE AGAINST SLAVERY
We have added this section to the blog in order to join the struggle against slavery worldwide. This week we refer you to the the ILO's Protocol on Forced Labor which is all about modern slavery. We call your attention to the anti slavery campaign. There you can sign up for action updates.The importance of checking your sellers' supply chains cannot be overemphasized.
You can download this book
Look for these logos:
Find a campaign to work for. Light must be made to shine in the darkest of places. We invite you to join Freedom United and raise your voice against child slavery.
URGENT ACTION CASES
RUSSIAN FEDERATION
Urgent Action Victory! Mikhail Tsakunov Released, Trial Ongoing
Prisoner of conscience Mikhail Tsakunov was released under travel restrictions on 26 April after spending almost a year in pre-trial detention. He was arrested in May 2018 and charged with violence against a police officer for his peaceful participation in an opposition rally. The criminal proceedings against him are ongoing and he is still facing up to five years in prison if convicted.
NO FURTHER ACTION IS REQUESTED. MANY THANKS TO ALL WHO SENT APPEALS.
PHILIPPINES
Urgent Action: End Attacks Against Human Rights Defenders
Cristina Palabay of Philippines-based human rights alliance Karapatan received on 22 April a text message from an unidentified person warning her and several others that they are targeted to be killed this year. Hours earlier, Karapatan member Bernardino Patigas was shot dead in Escalante City, Negros Occidental. He is the second human rights defender killed who was on a supposed 'hit list' released in 2018. The killing of Patigas and the threats against Palabay come amid increasing risks for human rights defenders in the country.
CHINA
Urgent Action Update: Labor Activist Held Incommunicado
Wei Zhili, an editor of "New Generation" (xinshengdai) a website which monitors and reports on internal migrant workers in China, has been transferred to secret incommunicado detention since 20 April 2019. Under this form of detention, he does not get access to a lawyer of his choice. He is at risk of torture and other ill-treatment.
COLOMBIA
Urgent Action: Thousands in Need of Urgent Protection
7,000 persons from Indigenous and Afro-descendant communities in Bojayá, Chocó (western Colombia) face live-threathening and forced displacement risk as the guerrilla National Liberation Army (Ejército de Liberación Nacional, ELN) and the paramilitary group Gaitanistas Self-Defense Forces of Colombia (Autodefensas Gaitanistas de Colombia) are increasing hostilities in their territory. The communities of Unión Baquiaza, Union Cuití, Carrillo, Playita, Mesopotamia and Egoróquera are at risk. In Chocó several assassinations of community leaders recently occurred, and communities are constantly under threats from armed groups without any preventive action from national authorities.
CHINA
Urgent Action:
Help Muslims in Xinjiang, China, observe Ramadan
Write to the organization representing Muslim countries and demand it speaks up for Muslims being denied the right to practice their religion in Xinjiang.
UGANDA
Urgent Action Update: Apaa Communities Attacked, Forcibly Evicted
Since 3 January, rangers from the Uganda Wildlife Authority have been carrying out forced evictions of communities in the Apaa area in northern Uganda. They have burnt homes, looted property and attacked community members. Hundreds of people have been rendered homeless, while several others remain at risk of forced evictions.