Our featured image shows a schema of the interior of a proton
IN MEMORIAM
AMOS OZ

Born: May 4, 1939, Jerusalem
Died: December 28, 2018, Tel Aviv
Spouse: Nilly Zuckerman (m. 1960–2018)
Movies: A Tale of Love and Darkness, The Little Traitor, Tsahal, My Michael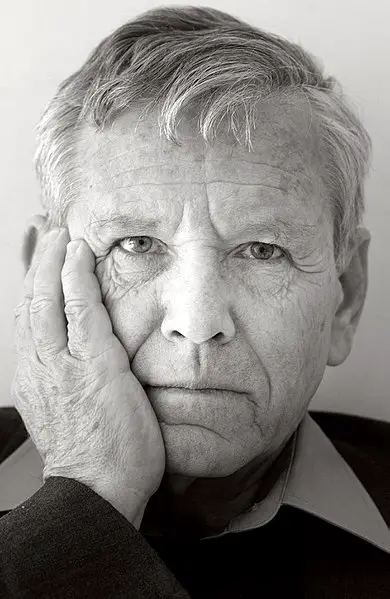 Amos Oz was an Israeli writer, novelist, journalist, and intellectual. He was also a professor of Hebrew literature at Ben-Gurion University of the Negev. From 1967 onward, Oz was a prominent advocate of a two-state solution to the Israeli–Palestinian conflict.
In Israel we have an additional component, the Messianic drive, that guides the politics of the settlers block, Gush Emunim. Prof. Talmon summed up this irrational mind-set well "Claims such as those of Gush Emunim sound to the international community much like that biblical passage— "Sun, stand thou still upon Gibeon, and thou, Moon, in the Valley of Ayalon "would sound in an astronomers' debate." Amos Oz addressed this issue. His article on the meaning of secular Judaism was republished in Haaretz on the occasion of his death.

Amos Oz leaves behind a legacy of literature and and moral and philosophical leadership. He was a moral leader of the progressive left and strongly espoused the cause of human rights, in particular for the Palestinians suffering under the occupation. There is a detailed obituary in the Jewish Virtual Library as well as a beautiful elegy written by his daughter, Fanya Oz-Salzburger.
CAROL CHANNING
January 31, 1921 – January 15, 2019
Carol Channing, the Broadway star best known for her enduring portrayal of the meddlesome matchmaker Dolly Gallagher Levi in the musical "Hello, Dolly!," has died. She was 97. She won three Tony Awards, including one for lifetime achievement.
Dolly was actually the second of two roles that made Channing's reputation. The first was Lorelei Lee, the gold-digging dingbat in "Gentlemen Prefer Blondes" which opened on Broadway in 1949. The show's popular song, "Diamonds Are a Girl's Best Friend," was often played as Channing's entrance music until the title song from "Hello Dolly!" trumped it.
"Carol Channing had only two major roles to her credit," Miles Kreuger, president of the Los Angeles-based Institute of the American Musical, said in a 2006 interview with the Los Angeles Times. "But she is regarded as one of the great stars of American theater. That in itself is a phenomenon."
Obituaries can be found in the Washington Post and the NYTimes.
ANDRE PREVIN
April 26, 1929-February 28, 2019
André Previn, who blurred the boundaries between jazz, pop and classical music — and between composing, conducting and performing — in an extraordinarily eclectic, award-filled career, died on February 28 at his home in Manhattan. Previn modeled himself on Leonard Bernstein who showed that a musician can cross lines and appear in several genres. He received a number of awards and honors for his outstanding musical accomplishments, including both the Austrian and German Cross of Merit, and the Glenn Gould Prize. He is the recipient of Lifetime Achievement Awards from the Kennedy Center,the London Symphony Orchestra, Gramophone Classic FM, and in 2010 was honored with a Grammy Lifetime Achievement Award from The Recording Academy. For his 80th birthday celebrations in 2009, Carnegie Hall presented four concerts which showcased the diversity of his career.
A full and detailed obituary can be found in the New York Times. Gail Eichenthal wrote an appreciation of Previn's career in the KUSC blog.
THE RANT

In the last few blogs Prometheus and Pandora have held forth at length about the difference between liberal democracy and the totalitarian version. They have referenced Jacob Talmon and others. Now they would like to discuss the question of the evolution of liberal thought and the failure of the expected turn to liberal democracy in the wake of the fall of the Soviet Union. In the New York Review of Books, David Bell reviews three studies that deal with the history of liberalism and its rise and fall.
Can Democracy Work?: A Short History of a Radical Idea, from Ancient Athens to Our World
by James Miller
Farrar, Straus and Giroux, 306 pp., $27.00
The Lost History of Liberalism: From Ancient Rome to the Twenty-First Century
by Helena Rosenblatt
Princeton University Press, 348 pp., $35.00
On the Spirit of Rights
by Dan Edelstein
University of Chicago Press, 325 pp., $40.00
Musée du Louvre, Paris
Eugène Delacroix: Liberty Leading the People, 1830
We would like to quote the optimistic conclusion to the review by Bell:
"Anyone reading these three books, particularly in the current grim political moment, will come away convinced of the fragile nature of the ideas underlying rights-based liberal democracy. They will grasp more clearly than ever that this liberal ideal, which seemed to triumph in the late twentieth century, had a tortuous history, with its successes dependent on a host of contingent factors. Readers will also be left in no doubt about some of the less savory things that often accompanied it. Miller pays due attention to the "carnival of atrocities" during the French Revolutionary Terror, even as France undertook its first grand experiment with democracy. Rosenblatt emphasizes the elitist,exclusionary tendencies inherent in the history of liberalism. Edelstein notes that, thanks to the concern with property of both the French Physiocrats and English common lawyers, the ideal of rights that triumphed in the eighteenth century can be seen as "the intellectual forefather of free-market fundamentalism."
Yet at the same time readers will come away with the realization that the liberal ideal has a much richer, deeper, more varied past than they might imagine from accounts that stress only the supposed Anglo-American path to "classical" liberalism. Perhaps forms of liberal democracy built upon narrowly individualist notions of rights and liberty, and that deny most citizens the chance for meaningful political participation, are indeed too fragile to offer sufficient protection against unfettered capitalism and the rising inequalities we see today around the world, as well as against surges of angry populism. But there are other ways to think about liberal democracy, inspired by constitutional models that strive to maximize democratic participation, by forms of liberal thought that emphasize moral action and the common good, and by a vision of human rights that extends broadly and fully across the globe. The French Revolution, for all its radical excesses, offered one such vision, and a particularly powerful one. Despite its well-documented flaws, its ideals may still be able to inspire those seeking to bend the arc of the moral universe toward justice."
The most pessimistic of the three is Miller who recognizes that today, profound social transformations have left the democratic ideal more imperiled than ever. Increasing inequality makes it more difficult for people to have their voices heard; government secrecy deprives them of the information necessary for political participation; and in an age of globalization many of the most pressing problems, such as climate change, require global, not local, solutions. America's current plight spurs Miller (drawing on F. Scott Fitzgerald) to some passionate and anguished prose:
"This is what democracy in America often seems like: an elusive fantasy, forever out of reach, forever unrealized, even as its most eloquent bards, trapped in their own prejudices, are "borne back ceaselessly into the past.""
But he still holds out hope that some version of the Condorcetian ideal of local democratic restraints on national governance might yet continue to inspire contemporary democratic movements.
Prometheus and Pandora look upon the plethora of books and academic studies that have come out since the election of Trump and the rise of authoritarian regimes imposed upon people by their own voting as an expected but irrelevant reaction to what is happening. Our academic friends prefer to sit comfortably in their ivory towers and write books about how the world is going to hell in a basket. It would be more to the point if they would use their prestige and position to persuade the public that it is in its interest to preserve the frail institutions of democracy. In 2015 Andy Borowitz, writing in the New Yorker, claimed that millions of people are fed up with arguing with idiots. In particular he noted the difficulty of getting people to understand that climate change is real and dangerous and that gun control is a prime societal need. Indeed, these things are a tough sell, but turning our backs is not a viable option.
TIDBITS FROM SCIENCE
NO SNAKES IN IRELAND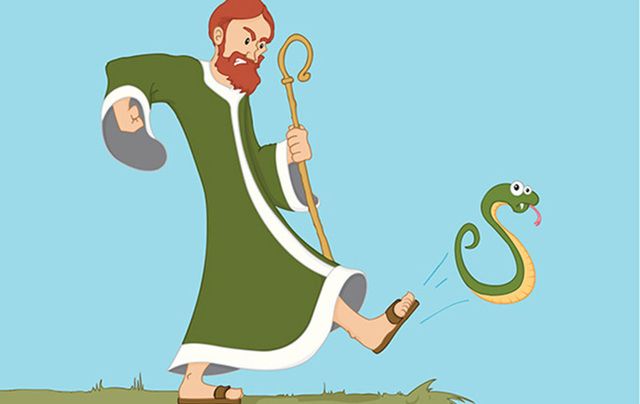 Since St. Patrick's Day falls this month, Prometheus and Pandora decided to take a look at the beloved folk legend that in addition to bringing Christianity to the Emerald Isle, the fifth century saint also banished the snakes from Ireland. In fact, the reason for the absence of snakes in Ireland is much more complicated. In truth, there never were any snakes in Ireland for the good reason that geology was against them. The full story is told by Sara Fechts writing in Popular Science and it is more interesting than a saint waving a staff.
OPPORTUNITY ROVER DECLARED DEAD
The Mars rover Opportunity has finally been declared dead after eight months of failed attempts to contact it. The rover, along with its twin Spirit that operated on the other side of the planet, was set up to run for 90 days. In reality, it operated for nearly 15 years. Both rovers were dropped onto the planet in 2004. Spirit failed after getting stuck in a sand drift in 2010, but Opportunity continued to operate until a major dust storm blocked its solar cells from recharging. The mission is now over, leaving a treasure trove of new data. The Mars Exploration Rovers tell us of an ancient time when Mars was awash in water, with good conditions for supporting microbial life. Here is a link to one of the rovers' most significant discoveries about the red planet.
INSIDE THE PROTON
A new study published in Phys. Rev. Letters provides a detailed description of what goes on inside a proton. At the center of a proton, the pressure is greater than that found inside a neutron star. Calculations were carried out over a year, using a theory called Quantum Chromodynamics with supercomputers. The results show that the pressure inside a proton is about 10**35 pascals or about 2.6*10**22 times the pressure at the center of the Earth.
Phiala Shanahan and William Detmold, both at MIT, find that the simple picture of a proton as three quarks held together by a bunch of gluons is incomplete. Their work is described in Live Science and is of major scientific importance, albeit esoteric to most of us. Their model of the proton is shown above as our featured image.
BOOK REVIEW

Two Sisters: A Father, His Daughters, and Their Journey into the Syrian Jihad by Åsne Seierstad, translated from the Norwegian by Seán Kinsella
Farrar, Straus and Giroux, 418 pp., $28.00; $16.00 (paper)
The book is reviewed in a forthcoming issue of the New York Review of Books, published online, by Christopher de Bellaigue for those with access, It is also reviewed in the NYTimes by Suzy Hansen. Asne Seierstad established herself as a writer with her 2003 book The Bookseller of Kabul which was an international best seller. She went on to write two books of reportage, the first about Baghdad in the run-up to the 2003 invasion, the second about Chechnya following the brutal war there. She then wrote about the killer Breivik and now has moved on to the Norwegian jihad. The book chronicles the attempt of Sadiq Juma, a Somali immigrant to Norway to retrieve his two daughters who have run off to Syria to join ISIS.
The story is harrowing, but it tries to provide an answer to the question of the failure of Western liberal society to integrate these young Muslim women.
SILLY TIME

What If? What if the Earth stopped rotating? -Andrew Brown
In the Bible (Josh X, 12) we hear the request
"Sun, stand thou still upon Gibeon, and thou, Moon, in the Valley of Ayalon "
Randall has an answer and it is not a cheerful one. Of course a slight slowing of the rotation might help true love.