Our featured image shows our beloved Miriam (1947-2012), a great friend and human rights defender
HE WHO PERMITS OPPRESSION PERMITS CRIMES.-Desiderius Erasmus (1466-1536)
CHARITY CORNER
This week we turn our attention to Reporters Without Borders, or Reporters Sans Frontières, an international non-profit, non-governmental organization that promotes and defends freedom of information and freedom of the press. The organization, with a head office in Paris, France, has consultant status at the United Nations. Its core belief:
Freedom of expression and information will always be the world's most important freedom. If journalists were not free to report the facts, denounce abuses, and alert the public, how would we resist the problem of children-soldiers, defend women's rights, or preserve our environment? Please support this worthy organization
INDIGENOUS PEOPLE
Indigenous tribes do not simply die out. They are killed by the actions of so-called civilized nations. Survival International provides a long list of cases in which a letter from you can and will make a difference. Please open this link and write at least one letter. This link will be a permanent feature on our blog and we would be grateful if you gave it a bit of attention each week. We suggest going down the list in the order given. The letters are pre-written for you. All you need to do is send them. It would be nice also if a donation to Survival International could be forthcoming. They are the best conservationists--help that fact go viral.
Dams on the Amazon can destroy indigenous tribes. Your support can help us fight for the most vulnerable people on the planet.
THE STRUGGLE AGAINST SLAVERY
We have added this section to the blog in order to join the struggle against slavery worldwide. This week we refer you to the the ILO's Protocol on Forced Labor which is all about modern slavery. We call your attention to the anti slavery campaign. There you can sign up for action updates.The importance of checking your sellers' supply chains cannot be overemphasized.
You can download this book
Look for these logos:
Find a campaign to work for. Light must be made to shine in the darkest of places. We invite you to join Freedom United and raise your voice against trafficking in children at bogus orphanages.
URGENT ACTION CASES
IRAN
Urgent Action Update: 38 Years and 148 Lashes for Women's Rights Defender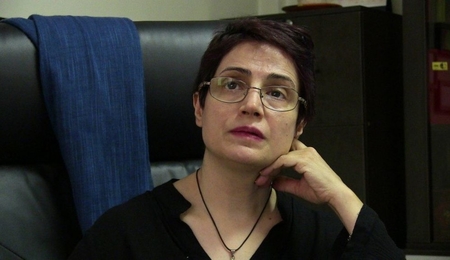 Prominent Iranian human rights lawyer Nasrin Sotoudeh has been sentenced to 38 years in prison and 148 lashes after two grossly unfair trials. The charges against her stem solely from her peaceful human rights work, including defending women's rights and her outspoken opposition to the death penalty.

TAKE ACTION
EGYPT
Urgent Action Update: Held Incommunicado Despite Release Order
On 19 February 2019, a judge ordered the conditional release of Egyptian activist Islam Khalil. On 25 February, the police moved Islam to al-Santa police station to complete his release procedures, but instead of releasing him the authorities held him incommunicado. On 10 March 2018, Islam was forcibly disappeared after National Security Agency officers had abducted him. He remained in arbitrary detention for almost a year facing the trumped-up charges of "membership in an illegal group" and "disseminating false information." His family believes that Islam is at serious risk of torture and other ill-treatment while in incommunicado detention.
ZIMBABWE
Urgent Action: Activist, Opposition Members Charged with Treason
Activist Rashid Mahiya and Members of Parliament with the opposition, Joanna Mamombe and Charlton Hwende were arrested on different dates in Zimbabwe. All three have been charged with 'subverting a constitutional government' which attracts a sentence of more than 20 years in prison. This charge is in connection with a three-day national shutdown called for on 14-16 January in protest against a hike in fuel prices.
CHINA
Release Jailed Labor Rights Activists Exercising Rights to Freedom of Association
In partnership with the Hong Kong Confederation of Trade Unions, the only independent and democratic trade union federation on Chinese soil, and Globalization Monitor, a Hong Kong-based NGO that monitors the adverse effects of capitalist globalization on workers and the environment. Please click and join the protest.