Our featured image shows our beloved Miriam, a great human rights defender
HE WHO PERMITS OPPRESSION PERMITS CRIMES.-Desiderius Erasmus (1466-1536)
Desiderius Erasmus in 1523 as depicted by Hans Holbein the Younger. The Greek and Latin words on the book translate to "The Herculean Labors of Erasmus of Rotterdam".
CHARITY CORNER
This week we turn our attention to the Union of Concerned Scientists.
UCS was founded in 1969 by scientists and students at the Massachusetts Institute of Technology. That year, the Vietnam War was at its height and Cleveland's heavily polluted Cuyahoga River had caught fire. Appalled at how the U.S. government was misusing science, the UCS founders drafted a statement calling for scientific research to be directed away from military technologies and toward solving pressing environmental and social problems. Please support this worthy cause, highly rated by charity monitors.
INDIGENOUS PEOPLE
Indigenous tribes do not simply die out. They are killed by the actions of so-called civilized nations. Survival International provides a long list of cases in which a letter from you can and will make a difference. Please open this link and write at least one letter. This link will be a permanent feature on our blog and we would be grateful if you gave it a bit of attention each week. We suggest going down the list in the order given. The letters are pre-written for you. All you need to do is send them. It would be nice also if a donation to Survival International could be forthcoming. They are the best conservationists--help that fact go viral.
A major calamity for indigenous people is enforced contact which can be deadly. Please act for people on the Peruvian contact border.
THE STRUGGLE AGAINST SLAVERY
We have added this section to the blog in order to join the struggle against slavery worldwide. This week we refer you to the the ILO's Protocol on Forced Labor which is all about modern slavery. We call your attention to the anti slavery campaign. There you can sign up for action updates.The importance of checking your sellers' supply chains cannot be overemphasized.
Look for these logos:
Find a campaign to work for. Light must be made to shine in the darkest of places. We invite you to join Freedom United and lend your voice to the campaigns against modern slavery.
URGENT ACTION CASES
IRAN
Nazanin Zaghari-Ratcliffe is a British mum serving a five-year prison sentence in Iran – but she hasn't committed any crime. She was recently released on a three day leave from prison to visit family – but has now, crushingly, been returned to prison. She has done nothing wrong. Help secure her freedom by signing our petition now.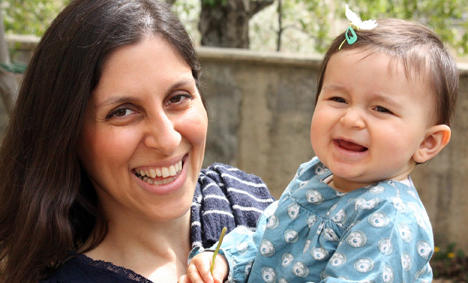 CHINA
Google is planning to re-launch its search engine in China – and in doing so, cooperate with the Chinese government's repressive online censorship and surveillance rules.
Act now to protect internet freedom in China.
BAHRAIN
Urgent Action: Deported Bahraini at Risk of Ill-Treatment
On 20 October 2018, Ali Mohamed al-Showaikh was deported from the Netherlands and arrested upon arrival at Bahrain International Airport. For more than ten weeks since, he has been held without access to an attorney while the Public Prosecution's terrorism unit proceeds with charges against him. There are strong reasons to fear he has been subjected to ill-treatment.
Thailand: Union leaders sacked, fined for demanding rail safety
The State Railway Workers' Union of Thailand (SRUT) organized a nationwide rail safety campaign following the fatal train derailment on 5
October 2009 at Khao Tao Station in Thailand, which killed seven and left several others injured. The government is punished the leaders of the union for highlighting the unsafe condition of th e railroad. Please join the protest.