Our featured image shows our protagonists as Pokemons.
The Charity Corner has found a home on the Miriam Shlesinger Human Rights Action site. Prometheus and Pandora hope that you will visit the site, take the actions and make the donations.
IN MEMORIAM Montserrat Caballé, April 12, 1933-October 6, 2018
The great diva who conquered the opera world with her magnificent voice and commanding presence has died at age 85. She had a colossal career spanning decades. Few opera singers rocketed to fame more swiftly than she. When Caballé substituted for Marilyn Horne in the title role in a concert performance of Donizetti's Lucrezia Borgia at Carnegie Hall on April 20, 1965, she was virtually unknown beyond a few provincial European opera houses. After the performance—and a twenty-five-minute ovation—all that would change. Record companies stormed the backstage while the applause was still going on. RCA won.
Pandora and Prometheus are fortunate enough to have in their collection an operatic event that took place outdoors and was preserved on video—Norma at the Orange Festival in 1974, opposite tenor Jon Vickers, a white-hot performance  and one that Caballé herself regarded as a major highlight of her career.
Detailed obituaries can be found in the Guardian and in Opera News. We can all be glad that she did not heed what she was told at her first auditions in Italy. The Italian maestros who heard her in Milan and Florence advised the already buxom young soprano to return to Spain, get married and raise a family.
Her collaboration with a rock singer was a unique phenomenon. In 1987, the mayor of Barcelona invited her to provide a theme song for the Olympic Games to be held in the city in 1992, giving the BBC the music for its television coverage. For this, she collaborated on the album Barcelona (1988) with the lead singer of Queen, Freddie Mercury, whom she knew to be a keen opera lover and who called her voice "the best in the world".
We would like to share with you her performance of the Puccini aria Mia bambino caro
RANT AND RAVE
RANT ABOUT THE PITTSBURGH MASSACRE
We cannot ignore the horrible event of the shooting of innocent people by a criminal in Congregation Etz Hayim in Pittsburgh. We honor the memory of the martyrs, the holy ones who were killed only for the "crime" of being Jewish. We lower our heads in shame at the totally inappropriate reaction of the Israeli government to the massacres.
IN MEMORIAM
Joyce Fienberg, 75
Richard Gottfried, 65
Rose Mallinger, 97
Jerry Rabinowitz, 66
Brothers Cecil Rosenthal, 59 and David Rosenthal, 54
Husband and wife Sylvan Simon, 86 and Bernice Simon, 84
Daniel Stein, 71
Melvin Wax, 88
Irving Younger, 69
A Pittsburgh newspaper put the opening words of the Kaddish on its from  page.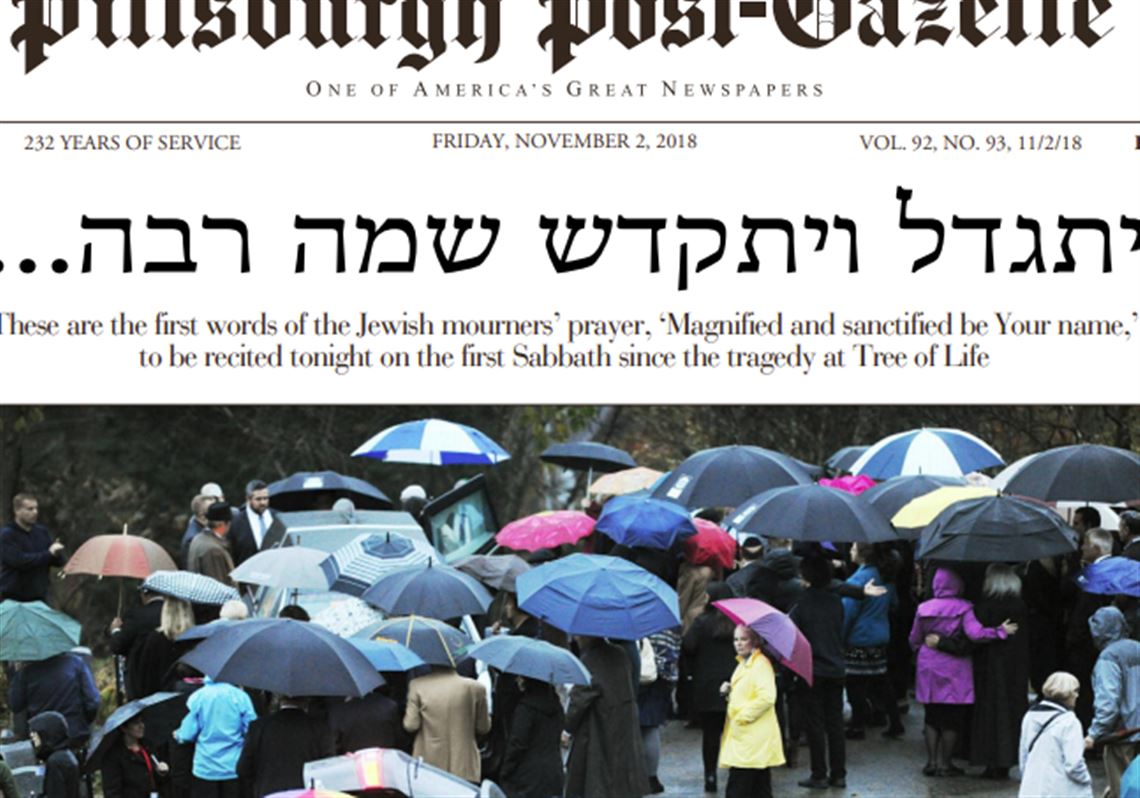 We salute the members of the Pittsburgh community, Muslims, Christians, whatever, who have rallied around the Jewish community. Wasi Mohamed, executive director of the Pittsburgh Islamic Center, says the Muslim community has raised more than $70,000 for the victims of the synagogue attack and their families. Mohamed said: 'We just want to know what you need … If it's people outside your next service protecting you, let us know. We'll be there.'
Nothing, not even the massacres coming one after the other seems able to get the US body politic to enact civilized gun control legislation.
Of course there are compelling political reasons for this:
RANT ON SEXUAL HARASSMENT
This section of our rants  will focus on sexual harassment by men in power and the culture of impunity that has always protected them. The recent exposures in Hollywood and New York of sexual corruption in the entertainment industry have given rise to a unity of protest and disclosure as exemplified by the #meToo movement. An online data base called Rotten Apples enables one to see if anyone involved in a show, film or series has been accused of sexual harassment.
Pandora tells us that this goes back a long way, to the gods of ancient Greece, such as the pursuit of the nymph Daphne by the amorous Apollo. Her father turned her into a tree to save her.
Today, alas, no such miraculous means are available and powerful men have used their positions with impunity to pressure and harass female employees and colleagues. On the other hand mass media and the internet have played a great role in exposing and shaming them. We shall focus on a few cases in Israel and in the entertainment business in the US.
ALEX GILADY
Gilady, who founded the Israeli television broadcaster Keshet, served as a senior executive of NBC in the United States in the '80s and '90s, rising to the post of senior vice president. He also sits on the International Olympics Committee. He has been forced to step down from his position at Keshet  in the wake of accusations of serious sexual misconduct. The claims are by Neri Livneh, a columnist with Haaretz, and Oshrat Kotler, a journalist on Channel 10 television. Livneh wrote a column that appeared on Haaretz's Hebrew website in which she said she was contacted by Gilady's secretary in 1999, who said that Gilady, then a top TV executive, wished to meet with her on the premise that he
had an interesting offer for her. She eventually found herself at his home where Gilady exposed his penis to her, saying "Talk to it." Livneh alleged that many people were aware of sexual misconduct of this kind committed by Gilady but preferred not to make it public. She described the incident on a women's program in 1999 but had been asked not to mention Gilady's name for legal reasons, Livneh says.
Kotler alleged that Gilady, then CEO of Keshet, made an "indecent proposition" when she met with him for a job interview. When she told him that she was married, he responded: "What has that got to do with it? Don't you know how they get ahead in television in Hollywood?"
Other women have come out with allegations against Gilady and his reaction has been to file a defamation lawsuit, although in the case of Livneh he has publicly admitted the facts described. We shall wait and see how this case works out.
DAN MARGALIT
Dan Margalit is an Israeli journalist who has announced that he will cease all journalistic work after eight women accused him of sexual assault and harassment. At age 80 he is currently an op-ed columnist for Haaretz. His career has included stints as a senior reporter and columnist at many papers; he was also a popular host of several television shows. He is considered one of the country's most influential journalists, with close ties to many senior politicians.
Orly Azoulay, a journalist for the Yedioth Ahronoth newspaper,in October became the eighth woman to speak out and accuse Margalit of sexual assault and harassment.  Azoulay, 65, accused Margalit of sexually assaulting her in 1992 in the studio of the "Popolitika" television political talk show, which Margalit hosted and where she was a panel member.
Before Azoulay, seven women had come out with accusations of sexual harassment. Haaretz reported that five women had accused him over the course of his long career, and two more spoke out later.
Margalit is now accused of being a serial sexual harasser of young female journalists. It is regrettable that a distinguished career should be marred at the end by such disclosures from the past, but the victims have borne the pain for all these years and he does not deserve impunity.
HARVEY WEINSTEIN
He was a extremely powerful Hollywood producer and a serial sexual predator who was brought down by Pulitzer prize winning articles in the New Yorker and in the NYTimes. The New Yorker articles by Ronan Farrow, a contributing writer, exposed the decades-long sexual predation by Weinstein and the complex system of private investigators, lawyers, and nondisclosure agreements that he used to cover it up. Two reporters at the Times, Jodi Kantor and Megan Twohey, first reported on Weinstein's sexual-harassment settlements, on October 5, 2017. Farrow's first article, a seven-thousand-word investigation published five days later, disclosed the first accusations of rape and sexual assault against Weinstein. Farrow's subsequent articles exposed additional rape and harassment allegations.
Weinstein is now facing sexual-assault charges in a court in New York. According to law-enforcement officials, the charges against him are based on the allegations of several women although the prosecution seems to have encountered difficulties relating to the functioning of the DA's office.
LESLIE  MOONVES
Moonves was until recently the CEO of the CBS Corporation. He too has been brought down by the writings and actions of Ronan Farrow. Farrow reported in the New Yorker:
"Six women who had professional dealings with him told me that, between the nineteen-eighties and the late aughts, Moonves sexually harassed them. Four described forcible touching or kissing during business meetings, in what they said appeared to be a practiced routine. Two told me that Moonves physically intimidated them or threatened to derail their careers. All said that he became cold or hostile after they rejected his advances, and that they believed their careers suffered as a result. "What happened to me was a sexual assault, and then I was fired for not participating," the actress and writer Illeana Douglas told me."
All the women said they still feared that speaking out would lead to retaliation from Moonves, who is known in the industry for his ability to make or break careers. "He has gotten away with it for decades," the writer Janet Jones, who alleges that she had to shove Moonves off her after he forcibly kissed her at a work meeting, told me. "And it's just not O.K.""
CNN reported that Moonves would step down from his position at CBS. Later the same day, CBS announced that Moonves had left the company and would not receive any of his exit compensation, pending the results of the independent investigation into the allegations. The company named six new members of its board of directors and said it would donate twenty million dollars to organizations that support the #MeToo movement and workplace equality for women. The donation will be deducted from any severance payments that may be due to Moonves.
Let us hope that the public shaming of these powerful and exploitative men contributes to the creation of a work culture and a social atmosphere in which women are respected and treated fairly
BOOK REVIEW/CLIMATE CHANGE
No Immediate Danger: Volume One of Carbon Ideologies by William T. Vollman Viking
No Good Alternative: Volume Two of Carbon Ideologies by William T. Vollmann Viking
The Most Honest Book About Climate Change Yet
William T. Vollmann's latest opus is brilliant, but it offers no comfort to its readers.
This dystopian novel describes the world as it will be. He addresses a reader who lives in the future, under radically different circumstances—inhabiting a "hotter, more dangerous and biologically diminished planet." He envisions her turning the pages of his climate-change opus within the darkened recesses of an underground cave in which she has sought shelter from the unendurable heat; the plagues, droughts, and floods; the methane fireballs racing across boiling oceans. Because the soil is radioactive, she subsists on insects and recycled urine, and regards with implacable contempt her ancestors, who, as Vollmann tells her, "enjoyed the world we possessed, and deserved the world we left you."
In contrast to other writers about climate change, Vollmann holds out no hope and regards our attempts to mitigate as futile exercises. The two components of the book are reviewed together in the Atlantic by Nathaniel Rich. In a similar vein albeit in a different context, Gerta Keller, a Princeton geologist who rejects the asteroid impact hypothesis of dinosaur extinction, and attributes the mass die-off of 65 million years ago to colossal volcanism, compares what we are doing to our planet to the lethal effects of a series of colossal volcanic eruptions in a part of western India known as the Deccan Traps. The story of the huge controversy between the impacters and the volcano camp appears in the same issue of the Atlantic.
A WORD FROM SCIENCE
A most exciting discovery has come from the Kepler and Hubble space telescopes. A moon orbiting a planet that itself is in orbit around a star other than the sun, i.e. an exoplanet has been discovered. In a paper published Oct. 3 in the journal Science Advances, Alex Teachey and David Kipping, both from Colombia University, report
that the detection of a candidate exomoon — that is, moons orbiting planets in other star systems — is unusual because of its large size, comparable to the diameter of Neptune. Such gargantuan moons do not exist in our own solar system, where nearly 200
natural satellites have been cataloged.  Stay tuned, more will certainly be coming on this subject.
WHY SCIENCE, IN PARTICULAR BIOLOGY?
SMBC has the answer.
SILLY TIME
I understand that the New Horizons craft used gravity assist from Jupiter to increase its speed on the way to Pluto. I also understand that by doing this, Jupiter slowed down very slightly. How many flyby runs would it take to stop Jupiter completely?
—Dillon
More than we can afford. The answer puts things into perspective.
WE GRANDPARENTS DO OUR BEST
WUMO has a special for dog owners… Because of strict copyright rules, we only give you the link.
WHAT PRICE MASS EDUCATION?