Our featured image shows our beloved Miriam (1947-2012), a great human rights defender
HE WHO PERMITS OPPRESSION PERMITS CRIMES.-Desiderius Erasmus (1466-1536)
CHARITY CORNER
This week we turn our attention to the Mercy Corps, a non profit that responds to disasters and need around the world. Their mission statement:
Our mission
Alleviate suffering, poverty and oppression by helping people build secure, productive and just communities.
We believe
In the value of every human life and that, as members of a global community, we have a responsibility to support one another.
In the right of all people to meet their basic needs, feel hope for their future and have opportunities to thrive.
That every man, woman and child deserves to live in a secure, peaceful community and to be empowered to participate in the decisions that affect their lives.
Crisis and challenge provide an opening to act courageously and offer solutions that spark long-term, transformational change.
Mercy Corps is highly rated by    
INDIGENOUS PEOPLE
Indigenous tribes do not simply die out. They are killed by the actions of so-called civilized nations. Survival International provides a long list of cases in which a letter from you can and will make a difference. Please open this link and write at least one letter. This link will be a permanent feature on our blog and we would be grateful if you gave it a bit of attention each week. We suggest going down the list in the order given. The letters are pre-written for you. All you need to do is send them. It would be nice also if a donation to Survival International could be forthcoming. They are the best conservationists--help that fact go viral.
A major calamity for indigenous people is enforced contact which can be deadly. Please act for people on the Peruvian contact border.
THE STRUGGLE AGAINST SLAVERY
We have added this section to the blog in order to join the struggle against slavery worldwide. This week we refer you to the the ILO's Protocol on Forced Labor which is all about modern slavery. We call your attention to the anti slavery campaign. There you can sign up for action updates.The importance of checking your sellers' supply chains cannot be overemphasized.
You can download this book
Look for these logos:
Find a campaign to work for. Light must be made to shine in the darkest of places. We invite you to join Freedom United        and lend your voice to the call to stop forced labor in US jails.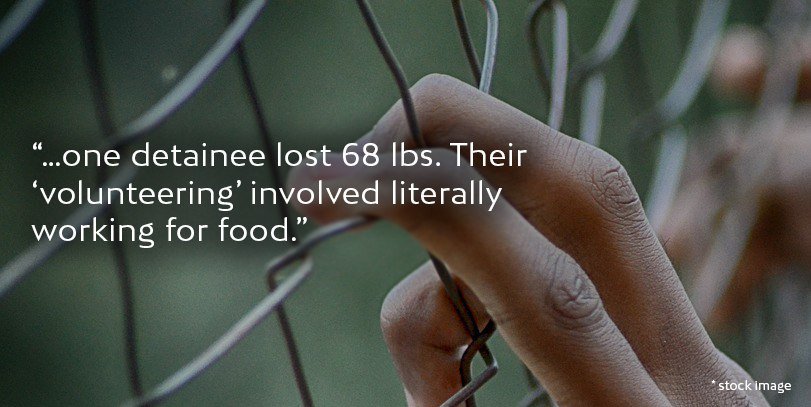 URGENT ACTION CASES
RUSSIAN FEDERATION
Urgent Action: PRISONER MUST REMAIN HOSPITALISED POST-SURGERY

24-year old detainee Ibragim Yangulbaev is gravely ill and was being denied essential post-surgery health care in pre-trial detention until 28 July when he was hospitalized. He must be allowed to stay in hospital until full recovery.
RUSSIAN FEDERATION
Urgent Action: JOURNALIST ACCUSED OF 'JUSTIFICATION OF TERRORISM'

Victor Korb, a human rights defender and journalist, is being unjustly prosecuted for "public justification of terrorism" on account of publishing the final statement of the person whose rights he defends. The charges against him should be dropped immediately.
CHINA
Urgent Action Update: 42 MONTHS IN PRISON FOR FORCIBLY RETURNED ACTIVIST
According to a Chinese media report, Dong Guangping was sentenced to 42 months in prison almost one year after his trial in July 2017. No notification about the trial or sentencing has been communicated with his family and lawyer. Held incommunicado since being forcibly returned from Thailand in 2015, he remains at grave risk of torture.
ANGOLA
Urgent Action: WHEREABOUTS OF COMMUNITY ACTIVIST UNKNOWN

Joaquim Costa Zangui, the National Youth Secretary of the Democratic Bloc, was abducted by unknown men on 12 August 2018. He went missing a day after he had presided over the electoral process to elect the new Residential Commission President in Massaque, Viana Municipality, Angola. His whereabouts remain unknown.
IRAN
Free Mohammed Habibi
Iranian teacher trade unionist Mohammed Habibi was sentenced to ten and a half years in prison on 4 August 2018. The sentence by the Iranian Islamic Revolutionary Court also included prohibition of social and political activities for two years, a travel ban of two years, and 74 lashes.  Please support the call for his release.