Our feature image: A blood moon rises over Marseille, southern France, Friday, July 27, 2018. Curiosity and awe have greeted a complete lunar eclipse, the longest one of this century. (AP Photo/Claude Paris)
The Charity Corner has found a home on the Miriam Shlesinger Human Rights Action site. Prometheus and Pandora hope that you will visit there, take the actions and make the donations.
RANTS AND RAVES
This month there is so much to rant and rave about, both at home and worldwide, that Prometheus and Pandora have no idea where to start. Let us start with the closest and the possibly worst.
RANT ON A FASCIST LAW
The Knesset overnight, 17-18/7, passed into law the contentious nation-state bill that for the first time enshrines Israel as "the national home of the Jewish people, " in its quasi-constitutional Basic Laws. The law also declares that Jerusalem is the capital of Israel, sets the Hebrew calendar as the official calendar of the state, and recognizes Independence Day, days of remembrance and Jewish holidays. One clause of the bill downgrades the Arabic language from official to "special" standing, but also cryptically stipulates that "this clause does not harm the status given to the Arabic language before this law came into effect." Read the full text of the law here.
This law is another lethal blow against democracy in Israel. In an unusual public critique of proposed legislation, President Reuven Rivlin sent a letter Tuesday morning to Knesset members urging them to amend the controversial bill aimed at enshrining Israel's Jewish character in law, saying that the measure "could harm the Jewish people, Jews throughout the world and the State of Israel."
Michael Schaeffer Omer-Man puts it well in +972, " You can look at the Jewish Nation-State law from two perspectives. There is the message it was intended to send to Jews: a positive affirmation of Israel as the Jewish nation-state; as the Jewish homeland; as the state of the Jews; a reassuring and nationalist message that says 'this country is yours and yours alone."
The other message, the inverse, meant for Palestinians, is: "this is not your land; this country does not belong to you, irrespective of whether you are an Israeli citizen living in the home of your great-grandparents or a refugee yearning to return to the land of your grandparents; your culture, language, and history are at best tolerated — this is not their home, this is not your homeland."
The Jewish Nation-State Law states, implicitly and explicitly, that Israel belongs not to all of its citizens, over 20 percent of whom are not Jewish. Instead, it declares that Israel belongs to the Jewish people, some half of whom are not Israeli citizens.
It tells all of us that we are well on the way to becoming an apartheid fascist state. As stated by Adalah attorney Fady Khoury in an interview with +972,
"Apartheid in South Africa was a process. It was a system that took years to develop and was built on the work of academics and theologians who had to create justifications for white supremacy. It was a system of hierarchy, in which there is one group with all the power and another without any power."
There appears to be little that liberal Israeli citizens can do to halt this process. It would seem that liberal Zionism has been crushed by the combination of the right wing in Israel and the policy of the Trump administration, as pointed out by Michelle Goldberg in the NYTimes several months ago. In general the difficulty that liberal Zionists, such as Prometheus and Pandora, have in reconciling their humanist beliefs with support for Israel is nothing new. Four years ago Anthony Lerman writing in the NYTimes outlined the dilemma of liberal Zionists–"They're convinced that Israel can be both Jewish and democratic, but they fail to explain how to reconcile God's supreme authority with the sovereign power of the people. Meanwhile, the self-appointed arbiters of what's Jewish in the Jewish state — the extreme religious Zionists and the strictly Orthodox, aided and abetted by Jewish racists in the Knesset like Ayelet Shaked, a Jewish Home Party member and Minister of Justice, who recently called for the mothers of Palestinian "snakes" to be killed — are trashing democracy more and more each day. "
RANT ON UNWORTHY FRIENDS
Here in Israel we have been "honored" by visits of people who are the dregs of world politics.
Viktor Orban the Prime Minister of Hungary, who is known as one of the world's greatest enemies of democracy, was here for a few days visiting his dear buddy, Netanyahu. Under Netanyahu's leadership, ties with Orban have warmed, prompting criticism from the local Jewish community over the Hungarian prime minister's attacks on Jewish billionaire George Soros, which critics say toy with anti-Semitic stereotypes. They also object to his past praise for a former Nazi ally. He has praised Horthy who ruled occupied Hungary during the war and under whose aegis over half a million Jews were deported to Auschwitz during the Holocaust.
While Orban has vilified George Soros,the Hungarian-born Jewish billionaire, who has been promoting democracy in Hungary and Eastern Europe in general ever since the fall of the Soviet Union, Israel has lobbied the United States to "open doors" to Orban's government. The US government  has traditionally  kept Orban at arm's length in view of  Hungary's  ultra-nationalist stance and the prime minister's embracing of what he has termed an "illiberal democracy."
Orban was received with open arms, visited Yad Vashem according to protocol, met the President, the works. All that Pandora and Prometheus, as well as their friends, can do is to blush with shame. Daniel Barenboim the great musician puts it best.  
There were some signs of   protest.
In the meantime, Israel and Myanmar have signed an agreement to coordinate what is written about each country in the school textbooks of the other. In a somewhat controversial move, the agreement allows the parties to "through their competent authorities, endeavor to mutually verify school textbooks, particularly concerning the passages referring to the history of the other state and, where needed, introduce corrections to these textbooks." A joint committee will be established to implement the agreement and will meet every three years. Noa Landau in Haaretz gives the details. We wonder what our children will learn about the genocide of the Rohingya. We are told that Israel has ceased selling weaponry to Myanmar, but the cozy relationship continues. We should all be ashamed including President Rivlin.
CRIME AGAINST CHILDREN
The Trump separation of children from their parents is beyond words. Let Mike Luckovich put it best.
GOODIES FROM SCIENCE
WATER FOUND ON MARS
t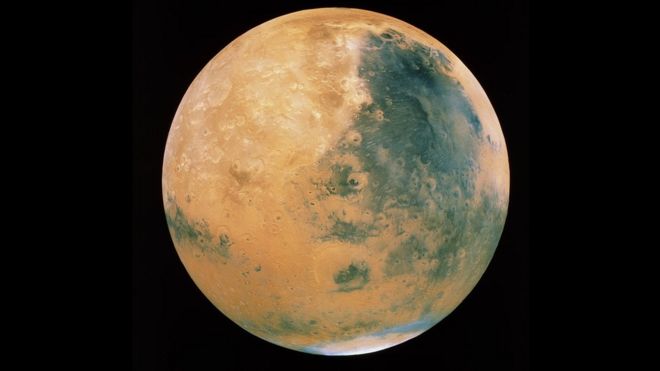 The Holy Grail of planetary science, liquid water on Mars, has been found.  The Mars Advanced Radar for Subsurface and Ionosphere Sounding (MARSIS) instrument on the Mars Express spacecraft collected radar measurements over the SPLD (South Pole Layered Deposit) .The research team led by R. Orosei of Istituto di Radioastronomia, Istituto Nazionale di Astrofisica in Bologna, Italy identified a distinct 20-km-wide bright reflector on multiple profiles collected over 3 years. They rule out a number of possible explanations for this bright reflector, leaving the existence of liquid water, either as a distinct water layer or as saturated sediments, as the only explanation. The finding is described in detail in news media such as BBC while the scientific paper has come out in Science.
Melanoma is an aggressive form of skin cancer and early detection is of the greatest importance. A blood test marker has long been sought by researchers and it now appears to have been found. An Australian team has published in the journal Oncotarget a description of research that has found a marker in the blood that can serve as an indicator of early stage melanoma. Pandora and Prometheus are very excited about this breakthrough and hope the test finds its way into clinical use very soon.
BOOK REVIEWS
This week we look at the NYRB reviews of two books on English religious music. Prometheus and Pandora hope you find them interesting.
God's Own Music
Ian Bostridge
February 22, 2018 Issue
O Sing unto the Lord: A History of English Church Music
by Andrew Gant
University of Chicago Press, 454 pp., $35.00
Messiah: The Composition and Afterlife of Handel's Masterpiece
by Jonathan Keates
Basic Books, 165 pp., $25.00
Ian Bostridge gives us a very personal review of these two books. The history book by Gant provides a detailed synopsis and melds the history of English music with developments in English history. Bostridge himself was a choir boy at a church in London that had seen better days in its past, but nonetheless had a charismatic organist and choir master who inspired the boys to reach heights of song. In particular they performed and loved the great hymns of the the English Reformation and its immediate aftermath—Thomas Tallis, William Byrd, the exotically named Orlando Gibbons, John Blow, Henry Purcell—and the music that was created in an attempt to recreate that beauty of holiness: the Victorian and Edwardian anthem tradition of Hubert Parry, Charles Villiers Stanford, Herbert Howells, and many others.
Thomas Webster: A Village Choir, 1847
The oratorio The Messiah by Handel is indeed worthy of a study on its own. In writing it Handel deviated from his usual style of stories of Old Testament heroes and it is devoted to the prediction of the coming of Christ. Handel was disappointed that people saw it as entertainment rather than a call to Godliness. It is customary for the audience to stand during the Hallelujah Chorus, although the source of the custom is not clear. When the piece was performed in Tel Aviv a few years ago, a few people, including your humble servant, stood, most did not.
A QUESTION ABOUT MUSIC
Classical music is one of the few domains in which women continue to  play a very minor and subservient role. Last week's Donne – Women in Music report expressed this in stark statistics. Across Europe, 97.6% of classical and contemporary classical music performed in the last three seasons was written by men, leaving a paltry 2.3% written by women. Why is this so? In a BBC documentary that aired this summer, the question is addressed by Danielle de Niese who writes about it in the Guardian.
SILLY TIME
WHAT IF?
What if we were to dump all the tea in the world into the Great Lakes? How strong, compared to a regular cup of tea, would the lake tea be?
Alex Burman
The answer should be of great interest to the tea drinkers among us.
We are planning a trip abroad and have consulted the Id folks on travel:
WUMO
Anyone who has traveled with children will have empathy.