Our featured image shows our beloved Miriam (1947-2012) a great human rights defender
HE WHO PERMITS OPPRESSION PERMITS CRIMES.-Desiderius Erasmus (1466-1536)
CHARITY CORNER
This week we turn our attention to the Union of Concerned Scientists. Their stated goal is to put rigorous independent science to work to solve the most pressing problems of our planet.
 INDIGENOUS PEOPLE
Indigenous tribes do not simply die out. They are killed by the actions of so-called civilized nations. Survival International provides a long list of cases in which a letter from you can and will make a difference. Please open this link and write at least one letter. This link will be a permanent feature on our blog and we would be grateful if you gave it a bit of attention each week. We suggest going down the list in the order given. The letters are pre-written for you. All you need to do is send them. It would be nice also if a donation to Survival International could be forthcoming. They are the best conservationists--help that fact go viral.
A major calamity for indigenous people is racism. Help stamp it out.
THE STRUGGLE AGAINST SLAVERY
We have added this section to the blog in order to join the struggle against slavery worldwide. This week we refer you to the the ILO's Protocol on Forced Labor which is all about modern slavery. We call your attention to the anti slavery campaign. There you can sign up for action updates.The importance of checking your sellers' supply chains cannot be overemphasized.
You can download this book
Look for these logos:
Find a campaign to work for. Light must be made to shine in the darkest of places. We invite you to join Freedom United        and lend your voice to the call to stop the use of forced labor in detention centers in the United States.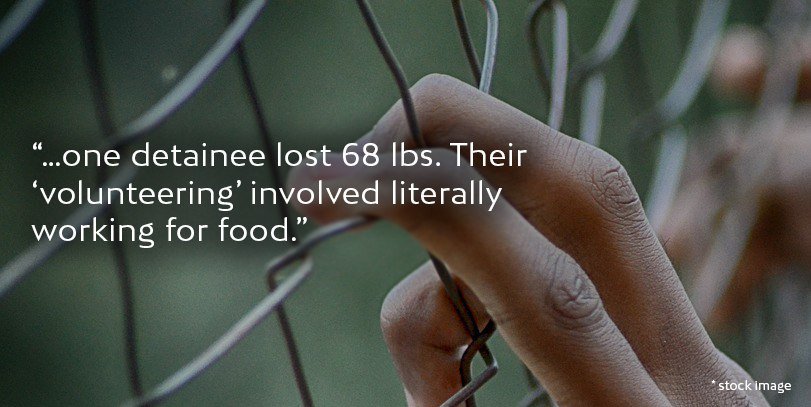 URGENT ACTION CASES
USA
Urgent Action Update – GOVERNOR – ACT FOR JUSTICE, STOP EXECUTION
On 8 February, the Ohio Governor issued an eight-month reprieve for Raymond Tibbetts, who was due to be executed on 13 February. The decision came after he received a letter in support of clemency from one of the jurors from the 1998 trial.
The Ohio parole board has recommended against clemency for Raymond Tibbetts despite a juror telling them that he would have voted for life if the jury had heard mitigation evidence revealed since the trial. The Governor can still grant clemency.
Urgent Action Update: AMAL FATHY REMAINS IN JAIL FOR CHARGES IN ONE CASE
On 21 June, Egyptian authorities upheld the decision to release woman human rights defender Amal Fathy on bail in one of the two cases against her. However, she remains detained in the second case for 15 more days. The prosecutor has two weeks to decide whether to renew Amal's detention on the second case or release her.
Urgent Action Update: ACTIVIST MADE TO SIGN FALSE WRITTEN STATEMENT
Human rights defender Pavitri Manjhi says that on 13 June 2018, a police officer visited her home in Benghari village, Chhattisgarh state and compelled her to sign a false written statement. Despite her filing official complaints about the ongoing threats, intimidation and harassment Pavitri Manjhi faces, police have not yet registered her case for investigation.
IRAN
Urgent Action Update: Human Rights Defender Needs Urgent Cancer Test
Iranian human rights defender Arash Sadeghi has been diagnosed with a bone tumour that may be cancerous. The authorities are disregarding medical advice which recommends his immediate transfer to a facility specializing in cancer treatment.
NORWAY
Sekkingstad and Sund, stop union busting!

After a 35 days strike last autumn, Norse Production finally signed a collective bargaining agreement for the fish processing sector. Norse Production was a subcontractor of Sekkingstad AS, a large company that exports salmon to more than 100 retailers and processing companies all over the world. The company had a turnover of more than 2 billion Norwegian kroner (0,21 billion Euros) in 2017.
Then the owners bankrupted Norse Production. A few days later, Sekkingstad AS established a new subcontractor, Sund Laksepakkeri, in the same place and with almost exactly the same management. None of the organized workers from Norse Production were hired in the new company and the collective agreement is gone. The bankruptcy of Norse Production and the establishment of a new company was a planned action from Sekkingstad AS to get rid of the organized workers and the collective agreement. This is union busting, and we cannot accept this. Send your protests to the owners and managers of Sekkingstad and Sund Laksepakkeri. Please raise your voice in protest.
INDIA
That's terrible, that's Tetley! – tea workers denied their human right to safe drinking water.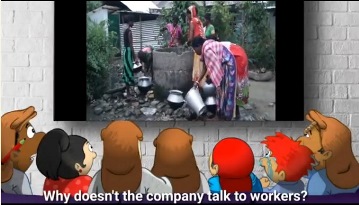 For the past two years workers, mainly women, on plantations in the Indian states of Assam and West Bengal which supply tea giant Tetley have been organizing to demand decent water and sanitation – a fundamental human right. Please join the protest.