Our featured image above shows a montage of the small moons of Saturn including  : Pan, Daphnis, Atlas, Prometheus, Pandora, Epimetheus, Janus, and Mimas, to scale. A true family picture of our friends.
The eight innermost moons of Saturn, in color images collected by Cassini between June 7, 2005, and July 5, 2010. Pan and Daphnis (top left small moons) orbit within the Encke and Keeler gaps in the rings; Atlas (below Pan and Daphnis) orbits at the outer edge of the main rings. To their right are Prometheus and Pandora; Prometheus orbits just inside and Pandora just outside the F ring. Below them are Epimetheus (left) and Janus (right), which trade positions every four years, averaging out to the same distance from Saturn. Mimas orbits considerably farther away, but its gravitational effects influence the positions of gaps and waves within the rings. At full resolution, the montage has a scale of 500 meters per pixel.
The Charity Corner has found a home on the Miriam Shlesinger Human Rights Action site. Prometheus and Pandora hope that you will visit there, take the actions and make the donations.
IN MEMORIAM
PHILIP ROTH March 19, 1933-May 22, 2018
The great American-Jewish novelist died this month at the age of 85. His work has been described as 'savagely funny and bitingly honest' which Pandora and Prometheus consider a good description. The Guardian asked 14 acclaimed writers including William Boyd, David Baddiel, Linda Grant and Joyce Carol Oates to pick their favorite work and the responses are worth reading. As Jennifer Gilmore wrote in Forward–"Roth's death, like all deaths, is the end of many things. Of towering white male novelists. Of that first wave of Jewish American immigrants who helped build literature as I know it. Of America as my Jewish grandparents knew it."
He angered many people, such as rabbis who resented his way of presenting Jewish characters, women who disliked his misogynist way of presenting women in his novels and literary critics such as Irving Howe, whom Roth lampooned mercilessly. Howe declared ironically that Roth "now stands close to the center of our culture (if that is anything for him to be pleased about), and he is accorded serious attention both by a number of literary critics and those rabbis and Jewish communal leaders who can hardly wait to repay the animus he has lavished upon them."
In addition to the obituaries in the NYTimes and elsewhere, many writers have written  how Roth influenced their careers. Andrew Martin writing in Vice tries to explicate Roth's attitude towards women. He refers to Vivian Gornick who wrote a vividly argued and much quoted essay about the way that Roth's narrators, beginning with the title character of his infamous, spectacularly successful novel Portnoy's Complaint, transfer their rage at the powers that be on to the women they're sleeping with, creating an "impassioned association of woman-hating with being Jewish-in-America" that outpaced even Bellow's. These comments are certainly worth reading.
FELICIA LANGER December 9, 1930 – June 21, 2018
The lawyer who was the first to bring the Occupation and its violations of human rights and international law to the courtroom died in Germany on June 21.
Felicia Langer was an Israeli attorney and human rights activist known for her defense of Palestinian political prisoners in the West Bank and Gaza Strip. She became a hated figure in Israel and was regarded as a traitor by many people. In 1990 she gave up the struggle since she realized that the courts and the system were using her as a fig leaf to portray the regime in a favorable light. She is eulogized by Gideon Levi in Haaretz and the +972 blog by the human rights lawyer Michael Sfard.
May she rest in peace. Many lawyers are following the path that she laid out for them with phenomenal courage and integrity.
MICHAEL S.J. BELTON September 29, 1934-June 4, 2018

Our esteemed colleague, Mike Belton died this month at the age 84. He was the President of Belton Space Exploration Initiatives, LLC, and an Emeritus Astronomer at the National Optical Astronomy Observatory (NOAO). Born in Bognor Regis, England, he received his Bachelor's degree at the University of St. Andrews in Scotland, and earned his Ph.D. at the University of California, Berkeley. He joined Kitt Peak National Observatory (the precursor to NOAO) in 1964 and carried out research on nearly all objects that fell under "planetary science." A detailed obituary has been put out by the American Astronomical Society.
We remember him from the heady days of planetary exploration with Voyager, Galileo and other spacecraft. Rest in Peace Mike.
CONGRATULATIONS TO NETTA BARZILAI
This Israel singer just won the Eurovision with her song "Toy" Cheers!
This is the performance that won.
https://genius.com/Netta-barzilai-toy-lyrics
Netta says it is a #MeToo song of empowerment. Pandora and Prometheus, to say nothing of their imaginary playmates, YandA, find it mostly opaque, but that is a matter of age.
A TRUE CLOAK AND DAGGER STORY
One of the Israeli intelligence agency's most daring missions is being turned into a movie, 'Red Sea Diving Resort.' One of the operatives looks back on a breathtaking operation that saved thousands of Ethiopian Jews' lives in the 1980's. Here is the pitch…

The story is told in the blog of Allison Kaplan Sommer who writes in Haaretz. She interviewed one of the participants in the phony beach resort in Sudan through which thousands of Ethiopian Jews were smuggled to Israel. The story is fascinating and worthy of your time. Here is the route:
RANT ON RAQQA
The city of Raqqa in Syria was subjected to a major set of attacks by the US-led coalition. The attack was supposed to drive Da'ash out of its self-declared capital. The attack killed hundreds of civilians who had no way of escaping the city. Someone must be held accountable for this massive atrocity. Please open the link, read the devastating account and sign the letter to the US Secretary of Defense demanding an accounting for the killings.
In the end, Da'ash was granted safe passage out of the town so the civilian deaths served no real military purpose.
RANT ON KIDNAPPING CHILDREN TO MAKE AMERICA GREAT
Words fail:
PROFILE OF A WRITER
Our attention is called this month to William Trevor, whose mournful, sometimes darkly funny short stories and novels about the small struggles of unremarkable people placed him in the company of masters like V. S. Pritchett, W. Somerset Maugham and Chekhov. He died in 2016 in Somerset, England at age 88. With the republication of his final collection of short stories, "Last Stories" a renewed interest is seen in his oeuvre. The collection is reviewed this month in the Washington Post by Heller McAlpin. When he died a wave of obituaries came out including a beautiful evaluation by the great Irish writer Ann Enright. She extols him as" a tender and compassionate chronicler of small town life."

Trevor, although born in Ireland, lived most of his adult life in England He described himself "I don't really feel those divisions any more than really I feel, in literary terms, the division between Ireland and England. I feel that writers of fiction do belong in a no man's land some place and I certainly feel I do."
From that no-man's land he gave us a treasure of wonderful writing. Prometheus and Pandora are grateful for the revival of his work and memory.
SOMETHING FROM SCIENCE
The question of the origin of language in homo sapiens has long proved difficult of linguists and anthropologists. A recent hypothesis  relates the development of language to the ability of our ancestors to make stone tools. Oren Kolodny, a biologist at Stanford University, puts the question in more scientific terms: "What kind of evolutionary pressures could have given rise to this really weird and surprising phenomenon that is so critical to the essence of being human?"
He and his colleagues have proposed a provocative answer. In a recent paper, Kolodny  argues that early humans—while teaching their kin how to make complex tools–hijacked the capacity for language from themselves. The hypothesis is described in detail in the Atlantic by Ben James. Kolodny and Edelman published their scientific results and ideas in the Philosophical Transactions of the Royal Society.
Naturally there is considerable resistance to this idea, in particular from the doyen of linguistics Noam Chomsky, Robert Berwick and other well-known linguists. In a famous 2014 paper in PLOS Biology they conclude that the evolution of language was unrelated to tool making and happened quickly. "The language faculty is an extremely recent acquisition in our lineage," these authors wrote, "and it was acquired not in the context of slow, gradual modification of preexisting systems under natural selection but in a single, rapid, emergent event."
The question is a thorny one since language in its development and evolution left no fossil record. The controversy will continue and we shall try to follow it. Stay tuned.
MAYBE SOME GOOD NEWS ON THE CLIMATE FRONT
Bill Mckibben writing it in the Guardian informs us that the fossil fuel  industry is on the ropes. He quotes research "In the past several years, oil industry financial statements have revealed significant signs of strain: Profits have dropped, cash flow is down, balance sheets are deteriorating and capital spending is falling. The stock market has recognized the sector's overall weakness, punishing oil and gas shares over the past five years even as the market as a whole has soared." The Pope has also taken a stand against the fossil fuel industry. Cheers.
WuMo even find a lighter side: Lest they sue us, we just give you the  link. https://www.arcamax.com/thefunnies/wumo/s-2092525
BOOK REVIEWS
Ronald Welch – The Gauntlet
This is a book aimed at young boys who like history and derring do. Prometheus and Pandora recently gave a copy to a young grandson in the hope that the adventures will motivate him to overcome the barrier and to read English. We append a review by Lady Fanciful.
The Amazing Adventures of Kavalier & Clay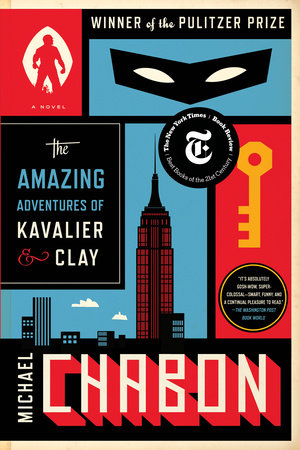 Novel by Michael Chabon
A "towering, swash-buckling thrill of a book" (
Newsweek
), hailed as Chabon's "magnum opus" (
The New York Review of Books
),
The Amazing Adventures of Kavalier & Clay
is a triumph of originality, imagination, and storytelling, an exuberant, irresistible novel that begins in New York City in 1939.  The book won the Pulitzer Prize of 2000. Prometheus and Pandora loved it. See the reviews in
the NYTimes
and
the Guardian.
CHEERS FOR THE WORLD CUP
Gideon Levy writing in Haaretz extols the world of sports and the world wide festival of the World Cup of soccer. He has a point although there is some argument over Senegal's ejection over yellow cards, possibly a result of referee racial bias. We also deplore the sexual harassment of female journalists.
SILLY TIME
WhatIf is interesting indeed–a five year old kid can think of things.
Earth-Moon Fire Pole
My son (5y) asked me today: If there were a kind of a fireman's pole from the Moon down to the Earth, how long would it take to slide all the way from the Moon to the Earth?
Ramon Schönborn, Germany
The answer is interesting.
ON MORALITY
AI TELLS THE TRUTH
Zack cuts close to the bone here:
Fish beaks? Zack needs some basic biology lessons…