Our featured image shows Miriam, our beloved human rights defender
HE WHO PERMITS OPPRESSION PERMITS CRIMES.-Desiderius Erasmus (1466-1536)
CHARITY CORNER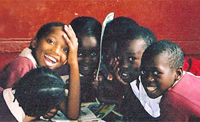 This week we turn our attention to the Books for Africa charity. Their mission:
A simple name for an organization with a simple mission. We collect, sort, ship, and distribute books to students of all ages in Africa.
Our goal: to end the book famine in Africa.
Books For Africa remains the largest shipper of donated text and library books to the African continent, shipping over 41 million books to 53 different countries since 1988.  Over the past 12 months we have shipped three million books, 93 computers and e-readers containing 223,000 digital books, as well as 10 new law and human rights libraries to 18 African countries. More than $2.5 million was raised last year to ship the books to the students of Africa.
This charity is highly rated by Charity Navigator.
INDIGENOUS PEOPLE
Indigenous tribes do not simply die out. They are killed by the actions of so-called civilized nations. Survival International provides a long list of cases in which a letter from you can and will make a difference. Please open this link and write at least one letter. This link will be a permanent feature on our blog and we would be grateful if you gave it a bit of attention each week. We suggest going down the list in the order given. The letters are pre-written for you. All you need to do is send them. It would be nice also if a donation to Survival International could be forthcoming. They are the best conservationists--help that fact go viral.
This week we ask for your help in maintaining the role of tribal people in conservation.
THE STRUGGLE AGAINST SLAVERY
We have added this section to the blog in order to join the struggle against slavery worldwide. This week we refer you to the the ILO's Protocol on Forced Labor which is all about modern slavery. We call your attention to the anti slavery campaign. There you can sign up for action updates.The importance of checking your sellers' supply chains cannot be overemphasized.
You can download this book
Look for these logos:
Find a campaign to work for. Light must be made to shine in the darkest of places. We invite you to join Freedom United        and lend your voice to the call to close the Libyan slave markets.
URGENT ACTION CASES
USA
Urgent Action: CALL ON OHIO GOVERNOR TO STOP EXECUTION
Robert Van Hook is due to be executed in Ohio on 18 July. He has been on death row for 33 years for a murder committed in 1985. The parole board has voted against clemency. The governor is not bound by their recommendation and can stop this execution.
MOLDOVA
Urgent Action: GRAVE HEALTH CONCERNS FOR DETAINEE WITH CIRRHOSIS
Moldovan businessman Serghei Cosovan is unable to access essential health care in pre-trial detention for his acute cirrhosis. The authorities are ignoring medical grounds to support treatment in an external specialised hospital and have recently remanded him to 30 more days in pre-trial detention. Serghei Cosovan's health is rapidly deteriorating and there are serious risks to his life.
CUBA
Urgent Action: ENVIRONMENTAL ACTIVIST IMPRISONED
Dr. Ariel Ruiz Urquiola, an environmental activist, was sentenced in Cuba to one-year imprisonment for contempt. He is a prisoner of conscience and must be released unconditionally and immediately.
COLOMBIA
Urgent Action: Indigenous People Threatened And Displaced
More than 200 indigenous Nasa Embera Chamí from La Delfina reservation in Buenaventura (West), Colombia, are currently displaced following an armed attack to a member of their community on 8 June. They are in need of decisive security measures to protect them and access to humanitarian aid such as food, health services and shelter.
USA/EUROPE
XPO: Time to talk about your behavior
XPO Logistics, one of the largest global logistics companies, is under increased scrutiny for its anti-worker, anti-union behaviour in Europe and the United States. XPO Logistics and XPO Europe's toxic corporate culture are pervasive. Please join the protest.
KOREA
Oracle workers on strike
Workers at IT software giant Oracle have been on strike since May 16 after negotiations for a first collective bargaining agreement with the company broke down. Call on Oracle Korea management to immediately engage in good faith negotiations with the Oracle Korea Workers Union and to end the exploitation of the workers who make the company so successful. Please join the call.